Cosmonauts arrive in Moscow Region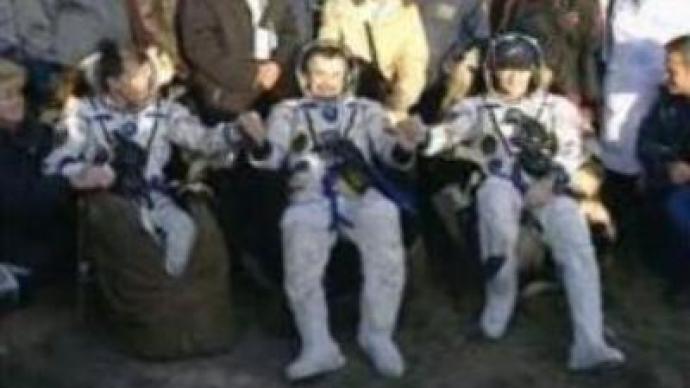 The Russian Soyuz capsule carrying the 14th ISS crew and the fifth space tourist successfully landed in Kazakhstan. They have already arrived at Chkalovsky airport in the Moscow Region.
The flight from Kazakhstan has been delayed for a few hours, which put additional pressure on the relatives, friends and colleagues who came to meet the outgoing crew of the ISS – Russian cosmonaut Mikhail Tyurin and NASA spaceman Michael Lopez-Alegria who finished their seven-month term on the ISS, and the fifth space tourist Charles Simonyi, who reportedly paid $US 25 MLN for his 14 days in space. It was a particularly emotional moment for their families.Mikhail Tyurin's wife, Tatyana, says the last minutes are the most painful."
Our grandson was born during his flight and this helped us cope with Mikhail's absence,"
she shared.During this expedition, Michael Lopez-Alegria set the U.S. record for the longest spaceflight – 215 days. His wife Darya says this period also taught her many things, as "patience, understanding, perseverance and love." The family of the U.S. businessman Charles Simonyi was not spotted at the airport. Instead, Russia's highest space officials came to welcome him.
"Being a businessman with a technical background, Charles is very well organised. During the six months of training he did so well that in space he acted like any other crew member,"
Nikolay Sevastyanov, President of 'Energia' corporation, noted.Charles Simonyi is expected to head to the U.S. within the next few days. 'The two Michaels', as the crew has been nicknamed during this expedition, will stay in Russia for a month to complete medical checks and flight debriefing.The landing in Kazakhstan has been described as relatively soft. All the three were conscious even though Mikhail Tyurin looked pale and tired. A feeling of gravity is a great shock to their bodies, so their condition will be monitored by doctors for a number of weeks paying special attention to their hearts and respiratory systems.As for Charles Simonyi, he seemed to feel better than ever, smiling and chatting to personnel. The space tourist said that he had a fantastic trip but happy to be back to Earth.An independent space expert, Yury Karash, expressed his opinion on space tourism. He said it is a commodity that is not likely to become available for ordinary people quite yet, although one will be able to buy a flight to space.
"It is a question of how often the tourists fly into space. If they fly on regular basis, five-seven times a month, I believe it will certainly be less expensive than $US 20 MLN. Of course if we talk about sub-orbital space tourism, it will certainly be less expensive. You know, Virgin Galactic is currently planning to charge about $US 200,000 for a space ticket, but of course it will not be an orbital mission. It will be a sub-orbital flight as I have said. During this sub-orbital mission a tourist will experience not more than four or five minutes of the weightlessness. They will certainly get above the atmosphere, above 100 KM of altitude which will formally qualify them for astronaut wings,"
he commented.At least Space Adventures, the company which booked Charles Simonyi's flight, has allegedly said it has a rating list of twelve candidates to fly to the ISS, although the closest opening that Russia might have for a space tourist will probably come in 2009.
You can share this story on social media: