Peace looming? Colombia to hold talks with FARC rebels
Published time: 5 Sep, 2012 04:41
Edited time: 5 Sep, 2012 11:28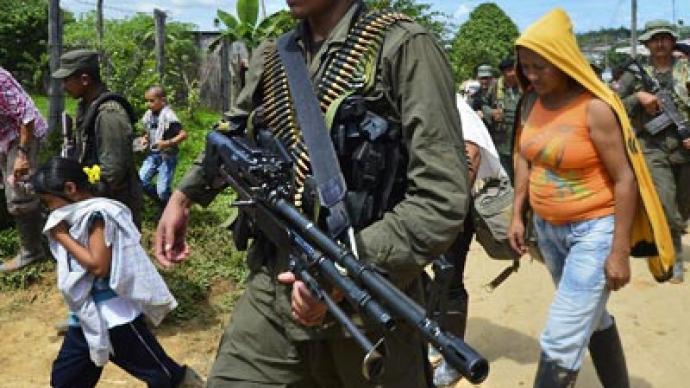 The Colombian government and leftist rebel group FARC will start peace talks next month in efforts to end the longest armed conflict in the Western Hemisphere.
President Manual Santos announced on Tuesday that the negotiations – the first in a decade – will take place in the Norwegian capital in early October.
Santos added the talks would be different from previous meetings because they have "a realistic agenda" that includes the Revolutionary Armed Forces of Colombia (FARC) agreeing to eventually lay down its arms and become integrated into the country's political life.
The government forces however will not stop military operations against the guerrillas during negotiations and there will be no demilitarized zone set up, as was the case during the last set of talks in 2002. "Military operations will continue with the same or even greater intensity," he said.
In a recorded message FARC leader Rodrigo Londono, known as "Timochenko," also confirmed the opening of talks next month. "We have the sincere hope that the government will not repeat past scenarios," he said.
President Santos said key topics during the negotiations would be drug trafficking, agrarian reform, returning stolen land, reducing poverty and compensating victims.
Handout picture released by the Colombian Presidency showing Colombian President Juan Manuel Santos offering an address to the nation from Nariño Palace, in Bogota on September 4, 2012 (AFP Photo)
One of the more challenging practicalities of the two sides making peace is that many of the guerrilla leaders have already been convicted of crimes against humanity.
Santos said Colombia now has a roadmap to end nearly 50 years of fighting. "We have worked diligently, and I must acknowledge the FARC also. So far, everything that has been agreed has been respected. If the FARC address the next phase with the same seriousness, we have good prospects."
However, Santos' predecessor, Alvaro Uribe, who pursued a harsh policy against the insurgents, has slammed any peace talks before the rebels have lay down their arms – denouncing the move as a "slap in the face of democracy."
"This is very serious because it means beginning dialogue without the end of the terrorists' criminal activities," said Uribe, who ruled from 2002 to 2010.