Cairo marks Nakba with no casualties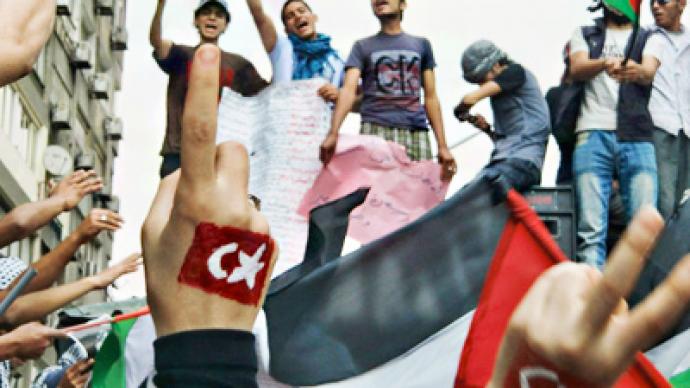 Young Egyptians carrying Palestinian flags began gathering early in the morning on a bridge in Cairo to remember how over 700,000 of their unarmed relatives had to flee their homes after the creation of Israel on May 15, 1948.
­Near the crowd, an Israeli flag is hanging on the roof of an unremarkable apartment building, as one of the apartments is home to the Israeli embassy. The curtains are tightly drawn and no signs of life can be seen inside.The approach to the entrance is guarded by barbed wire, armored vehicles, and Egyptian soldiers. The moment the demonstrators showed up, residents of the building appeared in the windows with Palestinian flags. Every year on May 15, Palestinians mark the day of Nakba, the Palestinian catastrophe.I went a couple of kilometers to the bridge together with a small group of students. Traffic in Cairo is so heavy that it is easier to walk for 1.5 hours; driving would have taken twice as long. Students were chanting loudly, clapping and stomping, and when we came to the building, our group was three times bigger than when it was when we set off. "These guys are Egyptians; the Palestinians have all left. Today, the Intifada began", a student told me as we walked. She didn't know at that time that 20 Palestinians died that day in Syria, Lebanon, and Gaza. From time to time, she would yell hails to Palestine and curses to Israel with her tender voice. A few hundred people had already gathered on the bridge, with a squad of volunteers making sure the crowd doesn't stand in the way of traffic. People were carrying 20-meter-long flags, dancing Dabke (Palestinian dance), making videos, and reporting live on the internet.
For more pictures visit RT Gallery "Protests outside the Israeli embassy in Cairo"From time to time, the military would close the square to traffic so that arriving demonstrators could cross. The crowd hailed the arrival of writer Norman Finkelstein, a US citizen, the son of Nazi camp prisoners and author of the book The Holocaust Industry, which had spurred some wild public discussion in America.As I walked around the block looking for shade and water, I saw groups of protesters painting posters and buying food for their comrades. From time to time, protesters would start negotiations with soldiers, who were smiling and talking over their radios. I was amazed at the composure of taxi drivers, who were cheering the protesters despite having to sweat in traffic jams because of the demonstration. Rumor had it that some young men had tried to sneak into the building but were stopped by the army. The Israeli flag kept soaring over the building. In the evening, I walked across the entire city to the TV center. I kept seeing more and more people going in the opposite direction, carrying Palestinian flags.The night before, a group of unidentified assaulters had opened fire at a relatively small group of Copts and burnt down several cars near the TV center. Paradoxically, the general mood there was not mournful, as one would expect, but festive. Western mass media were all too eager to blame the attack on some Muslim extremists. Internet sources were reporting in many languages about "Muslims attacking the Christians again". The people of Egypt, however, saw the situation as a challenge. In the end, what began as a humble Copt demonstration ended up as another impromptu fraternization of Egyptians – Christian and Muslim. Where as on Saturday, a couple of thousand (at most) sad-faced Copts were praying with their priests, now tens of thousands of Muslims and Christians are smiling, singing, hugging each other, eating, and drinking tea. Even the Copt priests are smiling – a rare sight indeed. They didn't even mind us taking photos of them, which they usually never allow. This festival unfolded on the Corniche Embankment, one of Cairo's main thoroughfares. Traffic was not allowed, and all exits and entrances were guarded by several lines of policemen. Women police officers told me it was done to make sure that no provokers could spoil the event. ­Nadezhda Kevorkova, RT