Is British football exploiting Asia?
Published time: 29 Oct, 2009 11:47
Edited time: 29 Oct, 2009 14:48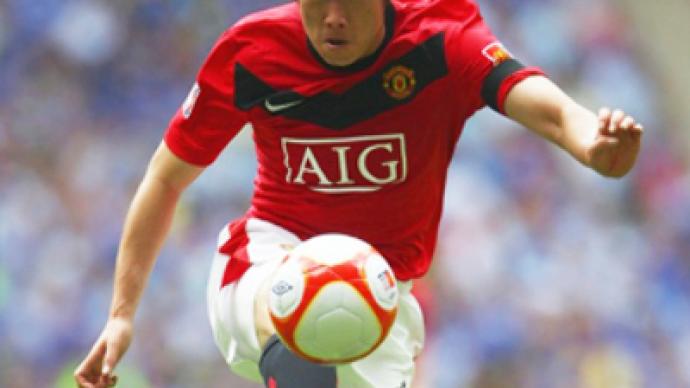 It captivates millions of Asians, it has been cited as the world's model football league, but is Britain's Premier League exploiting Asian players purely for capital gain?
Asia's growing economic prosperity is influencing and affecting countries worldwide in many walks of life. For some the English Premier League is exploiting this economic growth in signing Asian players and setting up multi-million telecommunication deals, namely to generate money. Is this view too pessimistic? And is the continent of football-lovers reciprocally benefiting from the growing alliance between England's and Asia's football associations?
Manchester United's important victory against CSKA Moscow last week was accomplished without the assistance of key players. Wayne Rooney, Ryan Giggs, Patrick Evra, Darren Fletcher and Ji-Sung Park were all absent from the squad. Although the labeling of Park as a "key-player" and comparing him with the likes of Rooney and Giggs is debatable, for many Ferguson's decision to buy the South Korean in 2005 for four million pounds was purely for commercial reasons. Park recently had his contract extended by three years, which throws the idea that Park was bought purely as a money-making gimmick into doubt.
Whilst Manchester United admit that they are keen to extend their fanbase to the Far East, they deny claims that their decision to sign Ji-Sung Park was solely to sell shirts. David Gill downplayed these cynical allegations at a press conference held in Park's hometown Seoul this summer:
"Ji was bought for football reasons, obviously, but his presence has helped our commercial situation in the country without a doubt."
Love him or loathe him, Park has accomplished some undeniably groundbreaking feats as an Asian footballer. Not only was he the only Korean player to win the UEFA Champions League, but he was also the first Asian player ever to play in the final. Not many players are privileged enough to don the captain's armband for Manchester United, a concession that was granted to the Korean when Ryan Giggs handed him the band in a European home game against Lille OSC. In giving Park such responsibilities and handing him a £65,000-a-week contract for the next three years suggests he is a valued member of the squad, who was even picked to start the 2009 Champions League final.
Michael Whitehead, a 53-year-old Mancunian considers himself to be a "real" Manchester United supporter. He was born and bred in the city, and his father used to play for United's youth team. Whilst Whitehead does not rate Ji-Sung Park particularly as a player, he cannot believe Ferguson would jeopardize their success by routinely playing a mediocre footballer merely to gain popularity and thereby "cash-in" from Asia. Whitehead told RT:
"Park looks like he is an extra in a Kung Fu movie, prancing about on the pitch. I was skeptical at first when Ferguson bought such a player from Korea. But there is no way a manager as shrewd and successful as Sir Alex would extend a player's contract merely for commercial reasons. The lad must be doing something right!"
Manchester United are not the only Premier League side to be boosting their presence in the Asian market. Recognizing the importance of appealing to a Far Eastern audience, Everton have astutely embarked on several telecommunications deals which has seen their existence flourish in Asia. The latest stride the Merseyside giants have made to capitalize on close Asian links was the signing of an agreement with Total Sports Asia to distribute the club's official mobile content rights throughout the continent. Although given Everton's current form, their dedication and commitment towards Asia is not helping them find the back of the net.
The Premier League's aspirations to appeal to Asia's sporting market are thoroughly reciprocated by Asians who embrace English football with open arms. This level of enthusiasm towards English football is shown through The Barclays Asia Trophy. The four-team friendly tournament consisting of three English Premier sides and an Asian team takes place every two years and is held at various locations within the continent. Originally titled the FA Premier League Asia Cup, the competition is the only Premier League affiliated tournament to take place outside of England. Because of its immense popularity, the Cup has survived for four seasons and is growing in eminence and respect. Held in Beijing this year, Tottenham Hotspur defended their 2007 title in Hong Kong by beating Hull City to lift the trophy for a second time. Prior to the competition, Chinese football fans were given the chance to ask Tottenham's manager Harry Redknapp some questions. Talking about the importance of having supporters in the Far East, Redknapp was quoted on the Premier League website saying:
"We already have a large fanbase in Asia with supporters in several countries across the continent. In fact, we will soon be announcing a new Tottenham Hotspur supporters club which will be based in Beijing very soon."
Although creating connections with Asia is not an entirely new aspect of Tottenham's promotional package. South Korea's Young-Pro Lee was signed by Tottenham in 2005 and was quoted by the club's then-manager Martin Jol as being "one of the best left-backs in Europe today." Redknapp believes Asian players are proving to be an essential asset in the Premier League's future. The manager said on premierleague.com:
"I would be interested in other Asian players for sure, if we can find players who we feel have the attributes or the potential to play at the highest level in England then we would certainly be interested. We are always on the lookout for players across the world."
One man who knows just how important the English Premier League is in Asia is the Asian Football Confederation's president, Mohamed Bin Hamman. The self-confessed Liverpool fan admits he only supports the club after reading a newspaper report about Liverpool in Qatar when he was a boy. Recognizing the enormous influence the League has across the world, Bin Hamman is dedicated to exploiting collaboration with the Premiership to help improve Asia's vastly inferior world of football, where only seven countries have professional teams. As revealed through the Everton and Total Sports Asia deal, Asian television companies are willing to spend millions on the Premier League, but remain unwilling to fork out any significant amount of money for their own leagues. However, instead of feeling resentment, Hamman welcomes foreign investment in the Premier League if its expertise helps to develop Asian football.
Not all football fans are convinced English/Asian collaboration is mutually beneficial and is being performed solely to enhance the game. Kurt Ryder is one such cynic. The Arsenal supporter told RT:
"If Asia wants to improve their leagues they need to improve their football skills. But football is all about cash these days and the likes of Ferguson, Redknapp and Moyes know gaining popularity in Asia will generate vast amounts of cash. How 'mutually beneficial' pumping millions into telecommunication rights to pick up a few tips from the English super clubs is remains to be seen."
Whether Ji-Sung Park will really be worth his £65,000-a-week this season, also remains to be seen. So long as he remains at Old Trafford, Park will continue to be the life and soul of Seoul.
Gabrielle Pickard for RT