British call for withdrawal of all troops in Iraq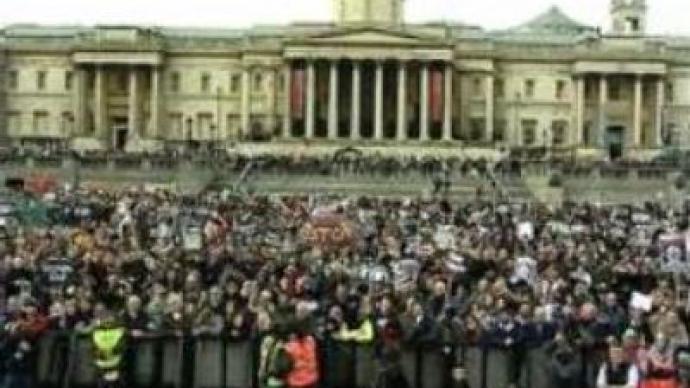 In London, a mass protest has been held against the war in Iraq. Organised jointly by the Campaign for Nuclear Disarmament, the British Muslim Initiative and the Stop the War Coalition, it's been one of the biggest protests in recent years.
Anti-war protesters took into the streets of two of Britain's major cities – London and Glasgow. The London march began in Hyde Park. According to the organisers, it was one of the biggest peace protests in recent years with people from over 150 towns and cities across Britain joining in.Organisers say the prime minister's recent announcement to bring back 1,600 troops has only strengthened their cause, making people even more determined to join the protest.George Solomou left the army after refusing to go to Iraq.
'When you say that Tony Blair is pulling out the troops – that is actually a lie. He is reshuffling the cards. He is bringing back some of the soldiers and then sending them off to Afghanistan,'
he stated.The protesters also demanded an end to Britain's nuclear capability. British Prime Minister Tony Blair set out plans late last year to replace Trident nuclear missile system. He said keeping the nuclear deterrent was crucial to national security. The protesters, however, are arguing nuclear weapons won't help.
'Britain currently has a nuclear system of about 200 warheads that could kill over 300 million people. That was a system designed during the Cold War. We never supported nuclear weapons then, but many people thought they were appropriate at that time. And many of those people have changed their minds since then. Nuclear weapons are irrelevant – we face no nuclear superpower threat and they are useless against terrorists,'
Kate Hudson, Chair of the Campaign for Nuclear Disarmament, commented.The demonstrators also voiced fears over a potential conflict with Iran, warning against any possible military action against Iraq's neighbour.
You can share this story on social media: