Blasts rock British embassy in Iran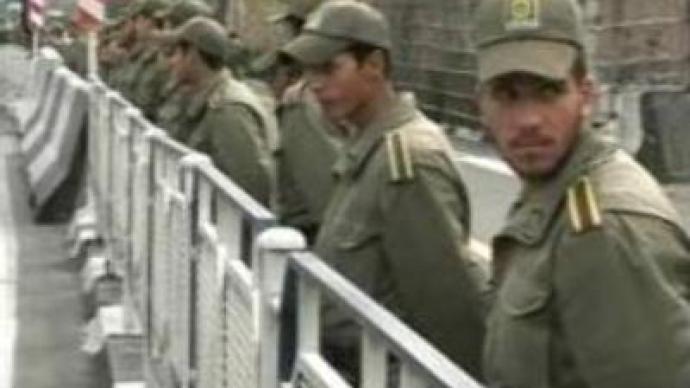 Several small blasts have rocked the British Embassy in Tehran. At least 200 students have staged a violent protest over the 15 British Navy personnel who, according to Iran, entered its waters illegally.
The protestors threw rocks and firecrackers, chanting anti-British slogans and calling for the British Ambassador to be expelled.Police prevented them from entering its grounds, although a few did briefly scale a fence according to reports.Britain's Foreign Office said there had been no damage caused.It comes as U.S. President George Bush called Iran's detention of the sailors and marines "inexcusable", though stressing his support for Britain's diplomatic efforts.
"The Iranian issue – the British hostages issue – is a serious one because the Iranians took these people out of Iraqi waters, and it is inexcusable behaviour. I strongly support the Blair government's attempts to resolve this peacefully, and I support the Prime Minister when he made it clear there were no quid-pro-quos. The Iranians must give back the hostages. They are innocent, they were doing nothing wrong, and they were summarily plucked out of water, and it is as I say – inexcusable behaviour,"
stressed American president. Meantime, the British government has said it is in direct contact with Iran and examining options for new dialogue over the captured sailors and marines.
You can share this story on social media: