"Silvio and I are closer together than ever" – Berlusconi's Russian flame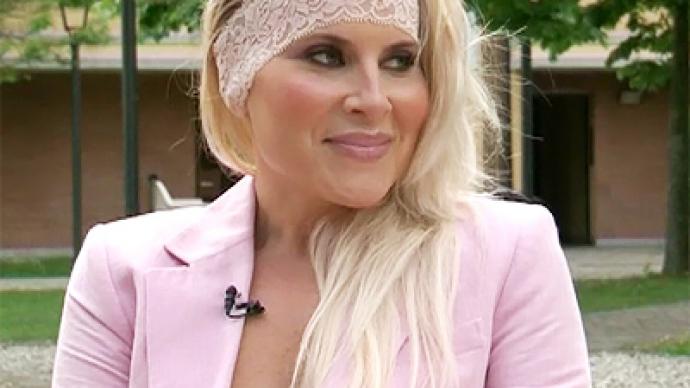 RT is lifting the veil on the personal life of Silvio Berlusconi in an exclusive interview with his reported Russian flame, Raisa Skorkina. And she says their bond is getting tighter day by day...
RT: Raisa, you're known as Silvio Berlusconi's companion, a very close friend. Could you tell us how you met him, and what was your first impression?Raisa Skorkina: Of course. I met Silvio on Sardinia eight years ago. I was invited as a guest to a billionaire party.  I was "Miss Billionaire" there once before.  So I came to the party with a friend of mine, and my friend knew some people who were sitting at the same table with the Prime Minister Silvio Berlusconi, and we approached to greet them not even knowing that he was there. We just stopped by to say hello, just as you do to friends or some ordinary people, just like that. So we approached, and I offered a handshake: - Hello.-Hello.- I'm Raisa.- Silvio. -Nice to meet you.- Nice to meet you. And we started talking. He told me some sort of an anecdote, I don't remember it now, but we had  a laugh. And he asked, "Raisa, can I give you my phone number?" I said, "You certainly can." So we exchanged phone numbers, and then we stepped out because there was quite loud dance music playing there. We were downstairs, at a restaurant, but you know there are two restaurants there, one downstairs and one upstairs. So, we went downstairs.  And we stepped outside, and my friend asked me: "Raisa, do you know who this man is?" Naturally, I assumed he was some very respectable high-ranking person, that was clear. I asked, "You mean Silvio?" And he said, well, he's Italy's prime-minister Silvio Berlusconi. You know, I can't even explain what I felt at that moment. He gave me goosebumps because he is a very handsome man. You know, it was love at first sight, I'd call it that. How shall I put it? He is such a gentleman, one  hundred-percent man in every sense – the way he treats women. I'm lost for words to describe him, I've given so many interviews already trying to explain what kind of man he is. And I keep saying the same. Why? Merely because it's always the same words. Only the best words could describe him. They are all about one man. All the best words are for him.RT: So, your very first impression of him was that of a handsome man, right?RS: Yes, I was very impressed with him as a man. RT: How often do you see each other now? Tell us about your relationship. RS: For me he's always been like a 'Guardian Angel', as he puts it himself. He told me, "Raya, you know, I want you to live happily." He understood right away what kind of person I am, and he said, "Raya, I want you to be happy." And ever since he became my guardian angel we've been seeing each other quite a lot, despite his business trips and tight schedule. Whenever he has some free time to come to Milan I always call him, and even if he has 15 free minutes, he says 'Raya, come!', and I come and we talk, and then we say good-bye and I wish him well, and I see for myself that he's well. RT: So you're saying you're two very good friends. Nevertheless, the mass media, and Italian press in the first place, called you one of the…RS: Of the "harem?"RT: Yes. RS: Well, they know now that there's no such thing as a harem. That's what I want to tell you right away. I'll tell you my story first, ok? And then I'll address the rest. As I said, the mass media can talk too much. I received a phone call from some journalists, you know. They called me and said, "Raya?" and I responded, "Yes. Good job, bravi, for counting me in. Why did you do it?""Raya, we are very sorry!" they said then. I'm telling you, they did call me, I'm being honest, I have the call log in my phone, I can show it to you. People from Corriere della Sera called me to apologize, they said they didn't have my phone number and published information about me without talking to me first. And they apologized for that. I already said this in another interview that there is no way I can be part of a harem, and the other thing here is that there is no harem at all. And that's another story. Why not me? Because I've been friends with Silvio for many years now while these rumours have been going on just for a year or two, right? Any sensible person would understand that Raisa Skorkina has nothing to do with it. As for the harem, I can tell you that this is all wrong, and I want to protect Silvio. There are no harems. The thing is that this man runs television, and television is where beautiful women work, right? And he, being the TV boss, hosts numerous parties, charity parties, even house parties. That's only normal, and he invites his employees to these parties, and these girls work for him. Both girls and men, because there were also men at those parties, not only girls. And that's just normal. Why does everyone talk about some harem? Why? Because they want to throw a stone at him, that's it. Just the way people write bad things about me although they don't know anything about me. People enjoy other people's dirty linen being washed in public. That's because they're too ashamed of their own dirty linen. They have such dirty things there it could drive you mad, and yet these people dare judge other people, people they don't even know. RT: What about the story with Ruby? She's no employee of his. That's a totally different situation.  RS: I can explain that, too. This situation can be explained. Do you know how it is when you bring along a friend to another friend of yours? You say, "Hey Olga, come along, I know that guy." That's what happened in her case. Some girl who knows Silvio brought Ruby along, and it's possible she didn't even know who Ruby really is. They might have just met, and she just said, "Oh, I'm invited to a party to such-and-such man, would you like to come along?" That's what happened. How could he know? You know, when I give a party, and my guests come to my home and bring someone along, they say: -Hi Raya, meet Vladimir. - Hi, nice to meet you.That's what I say, I don't say, "Vladimir, I want to see your passport now. Where were you born? What do you do?" You see? That's how it happened.RT: Can you tell us who these party women are – do you know them personally? How would you characterize them?RS: Yes, I know them because I saw them on TV. They work on TV. And people throw stones at them, too, the way they threw stones at us. I was completely shocked. These are TV girls. I saw them. I was at a TV party twice. I saw them at dinner. They are very pretty. And they are very smart. They work on TV, they have made a successful career. And they have achieved all by themselves, without any shortcuts, or such things. So I met them and we had a small talk. I talked to a girl who was sitting next to me. We just had dinner together, that's all. I didn't see anything weird.  No bunga bunga stuff as they call it. I gave an interview after that, and when they asked about bunga bunga I was surprised, "Bunga bunga? What's that?" Silvio himself laughed at it. He even turned this story into an anecdote. He told me, "Raya, I can tell you of bunga bunga, do you want to know? It's an Indian tribe where people dance a bunga bunga dance, like this. Oh no, sorry, an African tribe." RT: A new witnesses in the Berlusconi prosecution case said that party guests behaved indecently and they were also encouraged to take part in some kind of frivolous game. What can you tell us about Berlusconi's parties? RS: There was nothing like that. I think I visited two parties in 2010. And I haven't seen anything like that. I arrived, as I had already received an invitation. I had asked, "Silvio, could I come and see you as I need to discuss something?" and he said, "Yes, come along, but I'm having a party." So I said, "Ok, I understand." So I arrived, there was a huge table, and people were dressed in fabulous evening gowns, while I was dressed very modestly, you know. Everyone else looked gorgeous. He started singing, because he always sings. He sings exceptionally well, like Pavarotti, his voice is very powerful. He writes songs himself and then sings them. That's how it usually goes, we eat and he starts singing or telling jokes. Then we all got up, I took him by the arm, we went to his office, discussed my business and I left, that's it, I left for home. I haven't seen anything like that. I've no idea why people talk about it. I've seen nothing of the kind. You see, he told me that bunga bunga is a dance floor, and there's nothing special about it, just the same way we have it in Russia. The same way I had my birthday parties. We would eat, and then everyone would go to a dance floor. The same here, just the same. I once was at his New Year's party, I don't remember which year it was, and we all glided smoothly to the dance floor, there was a DJ and we just started dancing, there were drinks and cool things floating around the place. And there were men, too, not only women as the media says. Once he invited me to a special dance show, but it wasn't like anything outrageous, it was a beautiful Moulin Rouge-style show. There is even a picture of it, with dancing girls, I think from France, that's all. RT: You have a friendly relationship with Silvio Berlusconi, you're a friend of his. What about other party women? Why do they party? Are they fans of his? They are fond of him as a man or as a prime-minister? RS: Well, they are simply his employees, so it just happens that way. They work in TV. You know, when a company's boss throws a party, all the corporate employees are to show up, right? That's just normal.RT: Have you heard of Berlusconi's giving gifts to some of these women?RS: I can tell you about that, too. If, for example, you would come along with me to his party, Silvio would give gifts to all women, not to men. I remember seeing an American family at such a party; they were very high-ranked people, a married couple of about 60 years old.  It was in Sardinia. He has special scarves – 'foulards' – and he gives them to women, like a momento of visiting Berlusconi. It might be a pin, or a ring – nothing expensive – or a scarf. Everything is made especially for him so that he can give guests his own presents. RT: Would these gift compel women to be obliged in any way? RS: For god's sake, no! Foulard… never. Are you kidding me? Of course not. It's just a welcome gift, and the doorman gives them away to guests entering the house. RT: What gifts did you receive from Silvio Berlusconi?  RS: You know this is my private business. I don't want to talk about it. Please don't misunderstand me. I could tell you everything, but why? As you understand, my life currently is public, everyone's watching me. While I am a modest person, and I wish to keep some things private. RT: What is more important regarding presents – their value or romantic feelings? RS: Romance. RT: How did the scandal influence your private life?RS: It actually did influence it. Let's hope, for the better.RT: We've seen an article about you today in one of the British newspapers. It said that the Italian prosecutor's office allegedly suspects you of providing girls for the "harem".RS: No, that's not me. It's about Nicole Minetti, they've made a mistake.RT: Does it really have to do with Nicole Minetti?RS: It doesn't. Just what was it all about at the prosecutor's office? They said Nicole Minetti, Lele Mora and Emilio Fede, the three of them, have been doing it. But it can't be true. Why? I've met Nicole Minetti a couple of times. She's a very smart girl. And a business woman. Very serious indeed. It's unthinkable that she could be doing it – never in her life would she do things like that, especially in view of her prominent political career. Try to understand that there is no point for her in that. Then, Lele Mora who was my manager and whom I know personally. He's my friend and I like him so. I owe much to him. He only helps people. I know many of those he has helped to progress in life, say become a super star. That's why! He's a very good person, of a kind nature. He would never have taken up things like that either. Emilio Fede is in his seventies. He's a serious journalist, see? Anchorman of a serious news program on Rete 4 (Channel 4). I've known him for years too. And I'll tell you he wouldn't get involved in the prostitution business. It's ridiculous. Believe me. They are very serious and respectable people. It should be automatically accepted that they simply won't do things like that. Will not!RT: But your name has come to light in this British newspaper!RS: I don't understand why actually. I ought to sue them.RT: In what way did your life change? How did the scandal influence your career?RS: I expected a positive turn in my life, but of course all plans were abandoned. I won't lie to you. But we are with Silvio more than we used to be. We have been close before and now we're even more so.RT: How did the scandal influence your everyday life and your career? RS: I won't fool you of course. I had a very interesting and serious project in mind. I have to put it off and wait now. Why? Because the current situation demands that. I hope there are many other projects to come. We were very close with Silvio in terms of friendship, and now we are even closer.RT: That is, the scandal somehow united you.RS: Exactly. It united us.RT: What was your relatives' and friends' reaction to the scandal?RS: How else could they have reacted? Those who know me and are informed on my relationship with him from the very beginning till now have not reacted to that of course. They simply tell me, "Raya, hold on!" Now, do you know what? I am even glad. Want to know why? Because the people who have genuinely loved me, not because of some kind of personal interest, remained. And fake friends showed their true feelings.RT: Who could benefit from the scandal? Do you think Berlusconi is being attacked by a special media campaign?RS: It's the communists! Of course it's them, who else would benefit? They want to get rid of him as fast as possible, by any means…I don't know, they might even bring something from the Moon and say that Berlusconi did something there. That's all we need right now.RT: Do you think they are pouring oil on fire?RS: Of course they are. No doubt! And it is strange because he has faced so many lawsuits at a time. They launch the first trial, but he resists, they can't crash him. They start another one but still no success. They have assailed him, that's the right word for it. And only him. It's terrible. There are scores of murders and thefts and robberies but no one cares to find and punish the real criminals. And once arrested, the thieves are released. They are never tried in court. I can't explain it. And Berlusconi has to be tried. You must sue Berlusconi. The communists are believed to say, "Go make Berlusconi face a trial!" And he laughs in response, "I've faced so many as it is!" There are about thirty trials under way right now, if I am not mistaken. It's high time to stop trying him I think! He keeps going to court day after day. They say he ignores the trials, but in fact he doesn't. It happens now and then that his business affairs prevent him from coming. And so be it. But for that he is always there facing the jury because he doesn't have anything to conceal.RT: What do you think is media's role in this scandal? RS: I'm lost for words. It's beyond me. We shall wait and see where is goes. That's all we can do. RT: Can you tell us more about the secret language that you're using with Silvio Berlusconi?RS: You can do it when you know someone for a very long time. My phone calls have been intercepted for quite a while. It happened many times. We've known each other for a long time, and we call each other often. Especially at the start. And around 2005 they started digging into my private life and tapping my phone to discredit Silvio. We understood this situation and worked out some code words and phrases. For example if I am in trouble and I can't handle it myself, I can ask him for help and he immediately understands me and helps. He understands right away. He says, "Come over." And I get help right away. RT: Can you give some examples of the secret language? RS: Well, you know about gas. There are some other words, too, but I can't tell you, because if they tap me again they'll understand everything!  Let me think. Well, they are for private use, you know, let's just stay with the example you now.        RT: By the way, you mentioned that you're not dating anyone because of Silvio. RS: That's true.RT: Can you explain why?  RS: You see, in my heart my feelings for him still sparkle, and he knows it. And this is going to stay forever. You should understand that even if I fall in love or marry, my husband might resent it, but Silvio will stay in my heart forever…I'm going to cry now… RT: So he is the number one man in your life?RS: Well, not number one. Number one was my husband. I loved my husband. I have had two important men in my life, that's right.RT: Berlusconi said that he is going to resign. Do you feel secure even though Berlusconi leaves office in 2013?RS: You know, I think I'll build my own destiny by 2013. I'll have my life set, and we'll see each other, and sit on the bench in his garden and laugh and tell jokes.RT: Do you think he'll be all right? Do you think he'll stay in politics?RS: You can't even imagine how much he loves Italy! Once he told me "Raya, I think I'll die working". That's what he said.RT: Who came up with the idea of this secret language?RS: Well of course it was him!RT: Have you ever taught him any Russian words?RS: Not really. No, I don't think so. Maybe once, but I don't recall it now, maybe very long ago. Honestly. We talked about Russia, but mostly he tells me about his politics and about what he's doing for his people: "Look, I've done this and this, and I need to do that and that. We need to change that thing." He talks more about Italy than about Russia. We don't really talk about Russia.
You can share this story on social media: