Baby girl's arm amputation under investigation in Krasnodar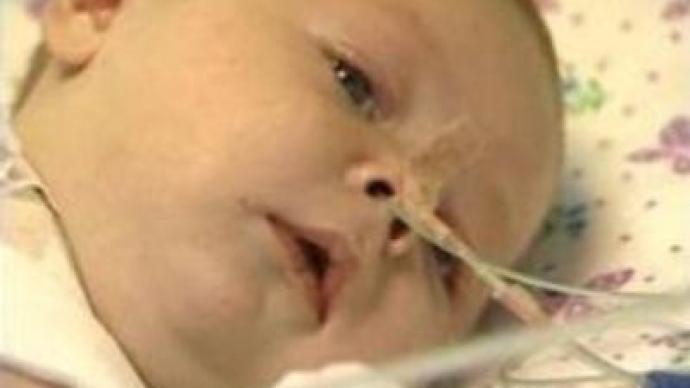 An investigation has been launched after a baby girl, who was admitted to hospital in Krasnodar region in Russia's south with a high temperature, had her right arm amputated.
Two month old Sofia had whooping cough, but it's thought the medical treatment was so badly botched, doctors were forced to remove her limb. The girl was hospitalised on December 31, running a high temperature. The doctors diagnosed whooping cough but wouldn't let her parents into the intensive care ward due to strict regulations.After the holidays they were notified their baby was doing well – but it wasn't until two days later they were told she'd been moved to a different hospital and her arm had been amputated. There was a series of mistakes - firstly the drip was wrongly inserted into an artery instead of a vein.By the time the error was noticed it had already caused lymphatic clots.The hospital's own spokesperson says the prescribed treatment made the situation worse.
"The second mistake is that all the possible measures were not fully applied in time,"
Sergey Akekseenko, the Head of Healthcare Department of Krasnodar region, explained.The girl was transferred to another hospital, where doctors fought to save her right arm, but precious time had been lost. She eventually lost her arm and shoulder joint.
"Now I'm praying for a possible prosthesis, because when a whole shoulder joint is amputated, only a plaster cast is possible,"
the girl's father, Victor Kulivets, said.The regional prosecutor's office has launched an investigation which could lead to criminal proceedings. The head of the hospital, where the error was made, has been dismissed and other medics involved have been suspended while the inquiry's carried out .
"We should oblige those doctors who make such horrific mistakes to pay for rehabilitation, medical treatment, aid and support for the victims from their own salaries. And only then will it be fair,"
Aleksandr Tkachev, the governor of the Krasnodar region stressed. Sofia is still in intensive care suffering from whooping cough, but her condition is stable and the authorities are bending the rules to allow her parents to stay with her in hospital.Russia's leading Paediatrician, Leonid Roshal, said while the amputation is a tragedy, this kind of mistake in Russia is very rare.
"It was such a mistake. The medication was injected into an artery instead of a vein. Such things do happen, but only very rarely. As to the amputation of an arm, I do not know of similar previous cases. I fear holidays and days off very much. For us, people in medicine, particularly those who work in emergency aid, there are no holidays at all. And this is what makes it complicated and may have affected the situation,"
he mentioned.
You can share this story on social media: