7 women, 7 children killed in Afghan cemetery bombing – officials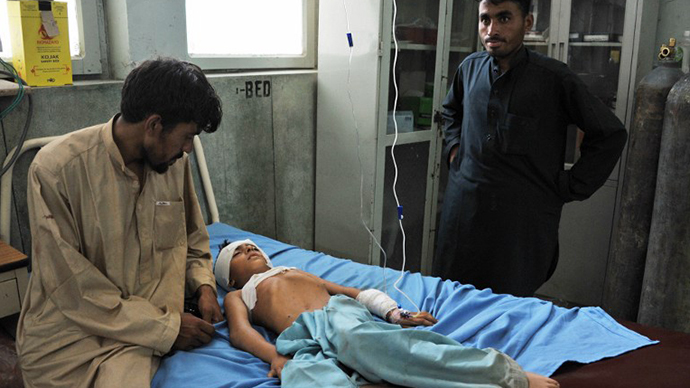 An explosion ripping through a graveyard in eastern Afghanistan on Thursday caused several fatalities. Authorities told Reuters at least 14 women and children were killed in Nangarhar province amidst Eid al-Fitr celebrations.
The attack in a rural district occurred as a group, comprised mostly of women, was visiting the grave of a relative who died while working for security forces, according to Al Jazeera. An improvised explosive device was planted near the grave. 
The victims were mainly from one family, said the provincial governor's spokesman, Ahmad Zia Abdulzai. Three women and one child were wounded, he added.

Earlier, the AFP reported 10 deaths:

"An explosion happened in a graveyard," the agency quotes Hazrat Hussain Mashriqiwal, police spokesman for Nangarhar province, as saying. "Ten women were killed in the blast, two other women and a child were also wounded."

Spokesman of the Ningrahar governor told BBCPashto :7 women & 7 children lost their lives in that explosion 3 women & a child was injured

— Emal Pasarly (@EmalPasarly) August 8, 2013
President Hamid Karzai condemned the bombing. No organization has claimed responsibility for the attack.

Nangarhar and its capital, Jalalabad, have been hit by a wave of bombings and suicide attacks over the last week. 
The explosion comes amidst Eid al-Fitr celebrations as Muslims mark the end of Ramadan, a month-long period of fasting from sunrise to sunset.  It is tradition among Afghans to pay their respects at the graves of family and loved ones on the first day of Eid.

Less than a week ago a suicide bomb attack struck near the Indian consulate in the eastern Afghan city of Jalalabad, killing 9 people, most of them children. The consulate said that no Indian officials were caught in the blast.
The recent violence in Afghanistan comes just days after Washington issued a worldwide travel alert warning US citizens about the "continued potential for terrorist attacks" in the Middle East and North Africa. 
France, Germany, Holland and the UK followed suite suspending their embassies' activities in Yemen.