Planes sustain 'significant damage' after maintenance check goes wrong in Kenya (PHOTOS)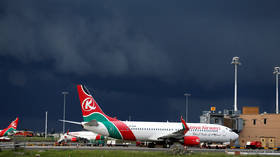 A quick-thinking technician narrowly averted a serious disaster when they steered a runaway plane away from the airport hangar it was lurching towards and into a nearby parked plane.
The bizarre collision happened at Kenya's Jomo Kenyatta International Airport in Nairobi on February 8.
The two Kenya Airways Embraer planes were reportedly undergoing a routine 'C4 check' of their engines at the time of the incident. Once this, the initial testing phase of the check, is complete, the planes then undergo what is known as 'engine run', which involves throttling the engine up to take-off levels while the brakes and choke are on.
In this instance, however, the brakes on the plane undergoing its engine run failed. Thankfully, the technician aboard the runaway plane at the time reportedly steered it away from the hangar building, opting instead to sacrifice another nearby plane.
Also on rt.com
Courchevel: Plane skids upon landing, crashes into pile of snow (VIDEO)
No one was injured in the incident and both aircraft have been withdrawn from service on account of the "significant damage" sustained in the incident, pending repairs and a full investigation into the circumstances of the low-speed crash.
"Some flights will likely be cancelled," Kenya Civil Aviation Authority Director-General Gilbert Kibe said in the aftermath of the smash-up, as cited by The East African. "If two are not available, that will really mess up the schedule."
Also on rt.com
Quick-thinking pilots narrowly avoid disaster during crash landing on Lima city streets (VIDEO)
Kenya Airways, however, said the incident should not affect normal operations.
Think your friends would be interested? Share this story!
You can share this story on social media: