UN environment head resigns after spending almost $500,000 on air travel in less than 2 years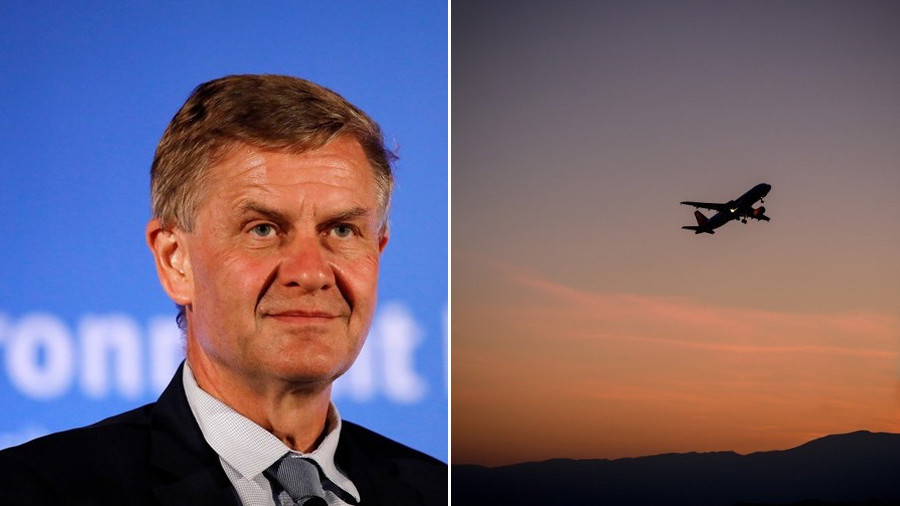 The head of United Nations Environmental Program (UNEP) has stepped down after racking up $488,518 in air travel and hotel costs. An audit has called his globe-trotting extravaganza a "reputation risk."
Erik Solheim, Norway's former environment minister and the head of UNEP since 2016, found himself in the midst of a controversy in September, when it was revealed that he was away from UNEP's headquarters in Nairobi, Kenya, some 80 percent of the time. A preliminary report on him prepared by the UN Office of Internal Oversight Services (OIOS) was leaked to The Guardian, detailing the official's exorbitant traveling spend, which accounted for 529 days out of 668 that had been audited.
Solheim finally submitted his resignation on Tuesday, after attempting to fight back rather defiantly. He was asked to account for 76 days he spent in his home town of Oslo and Paris on "official travel," but he called the question "stupid," and demanded that the auditors "stop treating me as if I am a 07 to 16 factory worker."
His globe-trotting drew criticism from environmental activists and UN staffers, who accused Solheim of undermining the reputation of the agency, which is supposed to persuade others to reduce their carbon footprint.
"Such extensive travel therefore presents a reputation risk to the organization, especially [given] that UNEP is supposed to be the lead on sustainable environment matters," the report stated.
The auditors found that Solheim's travel remained unchecked as it was all approved by a subordinate, who was reporting directly to Solheim rather than to a superior official.
Solheim was also accused of "having no regard for abiding by the set regulations and rules," and hit with allegations of nepotism after his wife secured a job in a Norwegian company shortly after it struck a memorandum of understanding with UNEP. Solheim was eventually forced to recuse himself from all dealings with his wife's company.
As the scandal over Solheim's travel expenses grew wider, several contributors to UNEP froze their funding until the final report comes out. Among the nations that threatened to leave the UN body cash-strapped were the environment-conscious governments of Sweden, Denmark and the Netherlands.
READ MORE: 'There is no god but Allah': Pilot converts to Islam while flying plane above Saudi Arabia (VIDEO)
The final report was released on Saturday and ultimately triggered Solheim's resignation.
"After deep reflection and in close consultation with the secretary-general, I am stepping down as executive director of UN Environment with effect from 22 November 2018," Solheim wrote in his resignation letter.
Think your friends would be interested? Share this story!