At least 2 dead, child 'trapped' as huge explosion devastates fireworks factory near St. Petersburg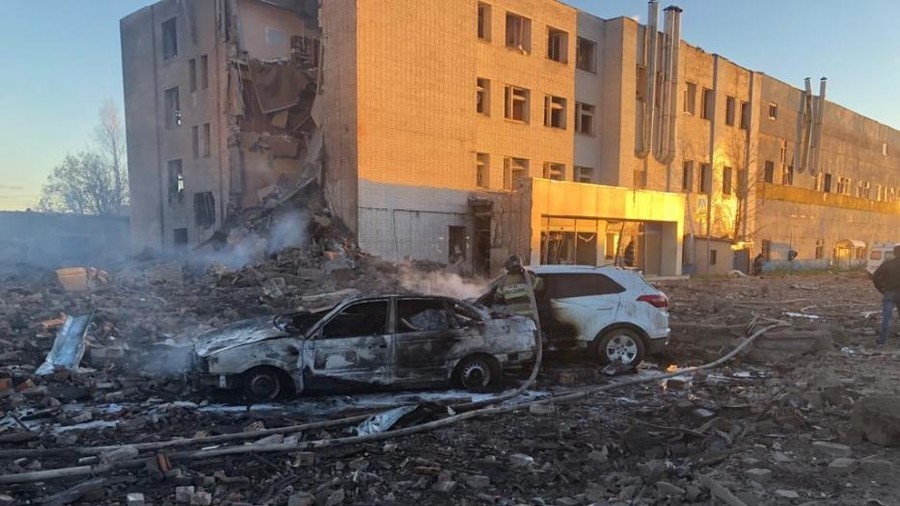 Rescuers are searching through rubble of a pyrotechnics plant outside St. Petersburg, where a major blast trapped several people under debris, killing at least 2 and injuring others. Videos show a huge column of billowing smoke.
Two dead bodies have been found under the debris after the Friday explosion at the Avangard plant in the town of Gatchina outside St. Petersburg, a spokesman for the Russian emergencies ministry told TASS.
Five more people have been taken to hospital with injuries. Initial reports said only five people were inside the building at the time of the blast. However, later reports suggest three people may still be trapped, including a child.
Photos on social media show scenes of destruction and billowing black smoke rising from the area.
The plant specialized in furniture and fireworks. Officials have ruled out terrorism. "It was a technological explosion. The building was partially destroyed," local authorities said as cited by Sputnik.
One of the factory's buildings collapsed completely, a source with the emergency services told RIA Novosti. Other buildings were damaged by the blast, footage from the scene indicates.
The blast damaged a railroad close to the factory, causing a brief disruption of commuter traffic. But the rails were promptly repaired, according to the railroad operator's press service.
The factory explosion has also damaged the local power grid, affecting some 80 buildings that accommodate 300 people, according to a regional electricity provider. The houses will be supplied with power through reserve cables while the main grid is being repaired.
Russia's Investigative Committee has launched a criminal investigation into the incident over a suspected "violation of safety rules at explosion-prone facilities."
Think your friends would be interested? Share this story!
You can share this story on social media: