Erdogan calls for Security Council reform, hails Turkey's work in Syria during UNGA speech
Published time: 25 Sep, 2018 15:21
Edited time: 26 Sep, 2018 07:23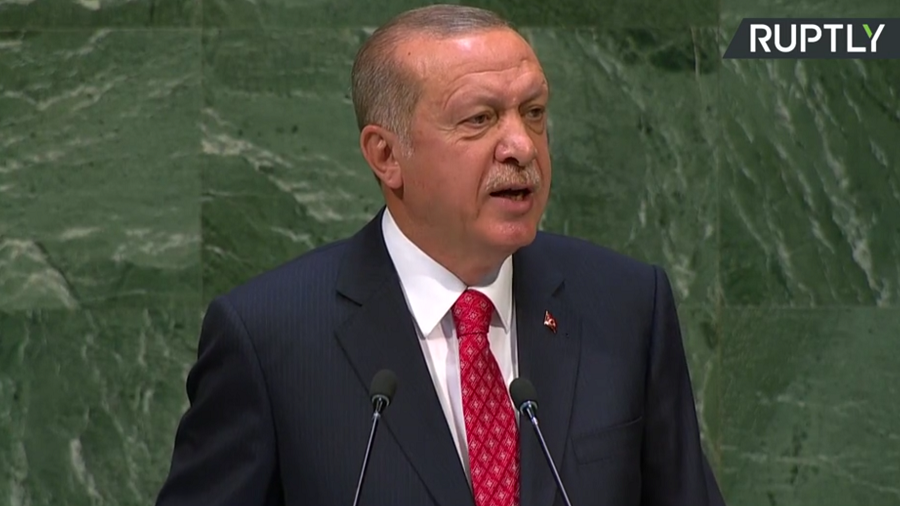 Turkey's president has spoken at the UN General Assembly, calling for Security Council reform. He hailed Ankara's humanitarian aid and work in Syria, and slammed the man who he says was behind the failed coup attempt of 2016.
25 September 2018

15:50 GMT

15:48 GMT

No one wants the world to experience a "new economic rupture," Erdogan said, while stating that some countries are "persistently trying to create chaos."

15:40 GMT

Erdogan referenced the failed coup attempt of 2016 and Fethullah Gulen, the US-based cleric who Ankara claims was the mastermind behind it.

He said the "Fethullah terrorist organization" is earning millions in the US through charter schools.

Erdogan calling for Turkey's allies to deport Gulenists, and reiterating Ankara's calls for America to deport Fethullah Gulen. #UNGA

— Areeb Ullah (@are_eb) September 25, 2018

15:38 GMT

Those who equip terrorists with arms and cargo planes will "most definitely feel sorrow and regret in the future for having done so," Erdogan said.

15:37 GMT

Erdogan said he believes that Turkey has cleared the way for peace and political solution in Syria, especially in Idlib province.

Turkey is trying to "make Syria a peaceful country once again," he said.


15:33 GMT

Erdogan expressed his support for a global administration system that will serve as a "shield to protect the oppressed and victimized."

Turkey is working towards a "fairer world," Erdogan said, stressing that it is hosting four million refugees – 3.5 million of whom have come from Syria.

#UNGA Erdogan says Turkey is hosting 4 million refugees and it's unprecedented and spent $32 billion to look after them.

— KhayelihleKhumalo (@KhayaJames) September 25, 2018

15:31 GMT

The world today is entrapped by political, social, and economic instabilities, and is "constantly suffering," he said.

Erdogan noted that while millions go to bed hungry across the globe every night, millions of others have been diagnosed with obesity.

15:29 GMT

Erdogan's tone has made evident that his opinion of the United Nations Security Council is not a positive one, adding that reform is needed and that the world is "greater than five."

"In many parts of the world every day, we confront the scenes of ethnic cleansing and mass slaughter than none of us would wish to see," he said.

15:27 GMT

Those who remain silent against the oppression of the Palestinians only increase the courage of the oppressors, Erdogan said.

President Erdoğan: "Even if the whole world turns its back, we, as Turkey, will continue to be on the side of the oppressed Palestinians and to protect the historical and legal status of our first kiblah, Al-Quds." #WorldIsBiggerThan5#UNGA

— Fatih Keleş (@fatihkeles) September 25, 2018

15:20 GMT

Turkish President Recep Tayyip Erdogan has arrived to address the UN General Assembly.