I seafood, I eat it: Triathlete banned from all-you-can-eat sushi restaurant after 80 servings
Published time: 14 Sep, 2018 12:40
Edited time: 15 Sep, 2018 11:53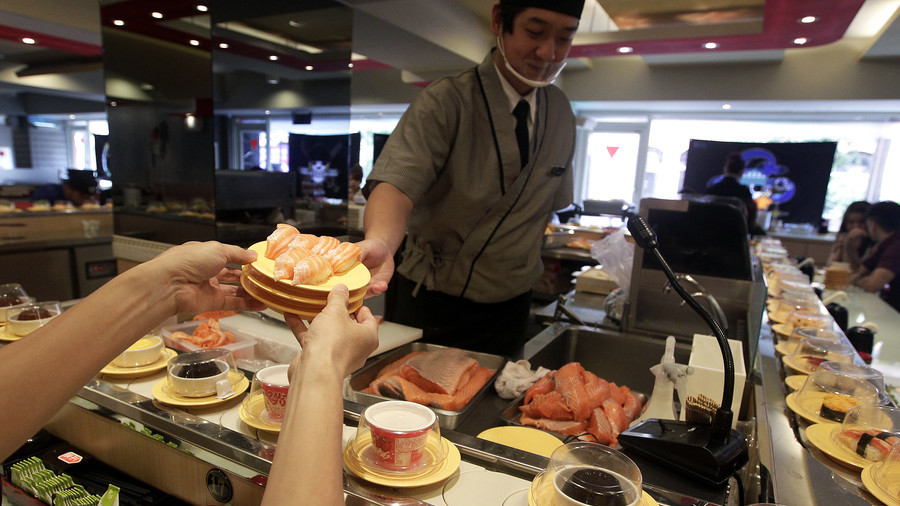 All-you-can-eat is a bold proposition used by restaurants to challenge the public to test their appetites time and time again. But one restaurateur didn't account for an athlete's insatiable hunger.
Triathlete and bodybuilder Jaroslav Bobrowski, 30, maintains a highly-disciplined lifestyle, developing software by day and relentlessly working out at night for both triathlons and bodybuilding competitions.
The latter requires strict dedication to maintaining a superhuman physique and often requires extraordinary diets to maintain. Bobrowski fasts for 20 hours each day, and affords himself just one four-hour window in which to consume his daily calorie intake.
After one recent and particularly strenuous workout, Bobrowski and his girlfriend decided to visit the local all-you-can-eat sushi restaurant in Landshut, Germany. Before long, the 79-kilo athlete's insatiable hunger had irked staff to such a degree that they simply refused to clear the empty plates from the table.
An hour-and-a-half into the fishy feast, after an estimated 80 servings of sushi, Bobrowski and his girlfriend ran out of real estate on the dinner table for more plates of food. They eventually took the hint and decided it was time to leave, at which point the waiter broke the bad news. He was told that it would be his last meal at the restaurant and is now banned for devouring the restaurant's food, as well as its profits.
"He eats for five, that's not normal," the restaurant owner said of the ban in an interview with PNP.
"I am used to being seen as abnormal as far as nutrition is concerned. My girlfriend was also rather amused," Bobrowski told Seuddeutsche Zeitung.
"But I am not angry or resentful. If we could find a solution that would make both sides happy, I would go again. The food was good after all."
However, following the media attention surrounding Bobrowski's phenomenal feast, both he and the restaurateur have called a truce and come to an agreement which satisfies both parties.
READ MORE: Flesh-eating bacteria claims 71yo man's arm after he ate contaminated sushi (PHOTOS)
"I'm open and willing to compromise, I do not want to ruin the business for God's sake," Bobrowski says of the new deal where he can still avail of the €15.90 all-you-can-eat deal at the eatery, but only at the end of the day when mere mortals have had their fill of fish.
Think your friends would be interested? Share this story!