Cabal of 12 Korean students conspired to gain weight & dodge military service
Published time: 12 Sep, 2018 10:58
Edited time: 13 Sep, 2018 14:07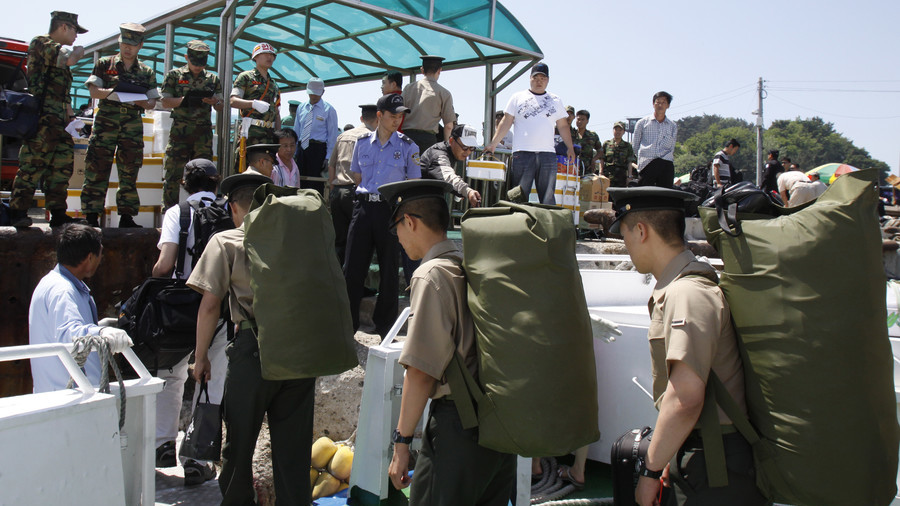 Military investigators in South Korea identified a group of 12 students in a Seoul university, who made a coordinated effort to gain weight to become ineligible for mandatory military service. Those involved could face jail time.
South Korea has some of the strictest rules about mandatory service. Every young man has to complete his service, with exemptions given to very few, such as people with debilitating conditions or Olympic medalists. For example, being a K-pop idol would not spare one from undertaking military service, so fans of bands such as BTS compile lengthy charts to track when this or that singer would be able to hang up his uniform and get back on stage.
There are also those who are found ineligible for active duty but still healthy enough to serve in the less-demanding alternative civil service, working low-paid jobs at tube stations, parking lots or government offices. There are several ways to fit into that category (including getting a tattoo big enough to be considered inappropriate) but gaining extra weight is most popular.
The 12 accused draft dodgers are all classical music vocalists, who received majors from the same university. They apparently thought they would have more time to practice if they stayed away from the barracks and shared tips on how to better achieve their goals in a group chat. This online trail allowed the Military Manpower Administration to identify them.
According to the military officials, two of the 12 singers have already completed their alternative service programs, four others are in the process and six more are awaiting their assignments. Their cases would be referred to court, which may order all of them to enlist in regular active duty, including the two, who already served their terms.
Dodging the draft is a serious offense in South Korea, with a jail term of up to five years allowed by law. Earlier this year a 21-year-old man was sentenced to a suspended one-year term for gaining an extra 30kg in 2016 to avoid the service. The Military Manpower Administration statistic says they identified 59 men, who used fraudulent ways to stay out of boot camp in 2017, compared to 54 in 2016 and 47 in 2015. Over a third of them used various methods of weight control, while about one in five went along with tattooing.
South Korea's military seeks to craft an alternative service program this year and implement it next year for young men who refuse conscription, most commonly for religious reasons, sources said Thursday. https://t.co/aqFEj3TcJi

— Alessia Cerantola (@aisselax) July 5, 2018
Admittedly, the Korean military have decided to make the conscription less taxing for citizens lately. This summer they agreed to slash the time of mandatory service by three months to 18 months for the Army and the Marine Corps and 20 months for the Navy. For the Air Force the reduction was smaller by a month to a total of 22 months.
"We are helping the drafted soldiers to focus on combat duties by minimizing their non-combat related duties. Any work that requires mastery will be carried out by non-commissioned officers," the Defense Ministry said at the time.
The Koreans currently serving saw their terms slashed proportionately to their remaining time, which messed up all those K-pop fans charts. But they probably don't mind it.
Like this story? Share it with a friend!