Mars to appear as 'bright as an airplane light' as it comes closest to Earth in 15 years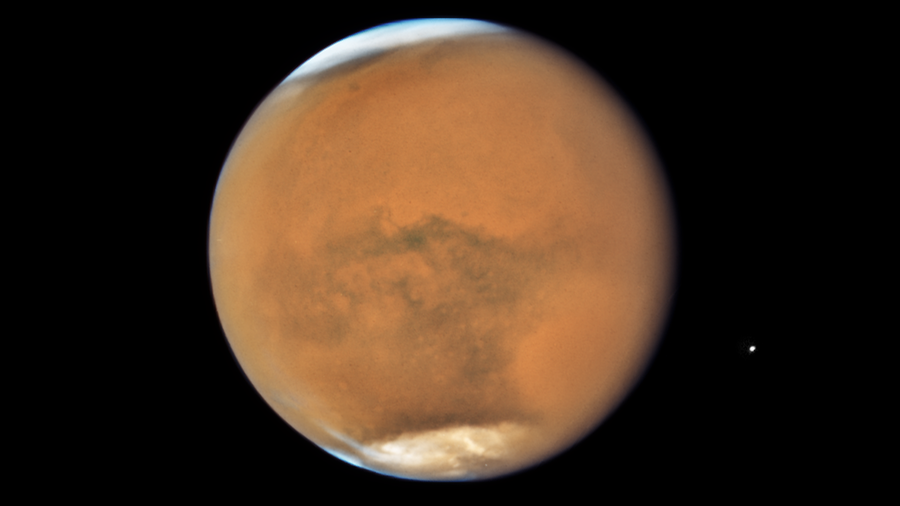 With scientists recently announcing the exciting discovery of a 'lake' hidden below ice on Mars' south pole, the Red Planet is seemingly capitalizing on the exciting news by coming closer to Earth than it has in 15 years.
Stargazers will be able to see the planet at its brightest from Friday night through to Monday night, as Mars comes a 'mere' 36 million miles (58 million km) from Earth, according to NASA.
The planet will be easily visible by the naked eye, while those with a telescope may be able to spot details on the planet's surface, such as its ice caps.
However, dust storms currently engulfing the planet may obscure details that are usually visible with telescopes, Widener University astronomer Harry Augensen told AP.
On the plus side, the Martian dust will better reflect sunlight, making the planet appear even brighter from Earth.
"It's magnificent. It's as bright as an airplane landing light," Augensen added. "Not quite as bright as Venus, but still because of the reddish, orange-ish-red color, you really can't miss it in the sky."
The visit will see Mars come into "opposition," which occurs when Earth lies directly between Mars and the sun, making the sun and Mars appear in opposite directions as viewed from the Earth.
READ MORE: Life on Mars? Scientists discover underground 'lake' at south pole
In 2003, Mars came its closest to Earth in 60,000 years – 34.6 million miles – a feat that won't be repeated until August 28, 2287.
People in Australia, Africa, much of Asia, the Middle East, Europe and South America will also be treated to a lunar eclipse (at least part of it) on Friday night, which is expected to last for one hour and 43 minutes.
Think your friends would be interested? Share this story!
You can share this story on social media: