'Was he from Pussy Riot?' Lavrov jokes about demonstrator removed from Trump-Putin press conference
Published time: 16 Jul, 2018 20:48
Edited time: 18 Jul, 2018 10:27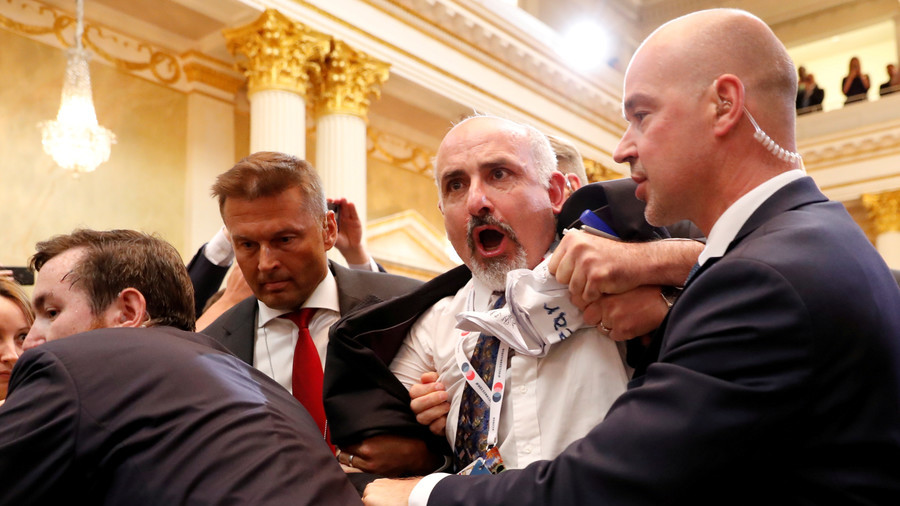 Sergey Lavrov was quick to draw a comparison between Pussy Riot's World Cup final pitch invasion and an even more bewildering incident that preceded the Donald Trump-Vladimir Putin press conference in Helsinki.
Minutes before the two leaders were due to speak, footage circulated around the world of a man holding up an A4-sized placard that read "Nuclear test ban treaty" being forcibly removed from the auditorium where the summit Q&A was due to take place.
READ MORE: Pussy Riot say they staged four-person pitch invasion during World Cup final
Understandably, the Russian foreign minister was somewhat miffed.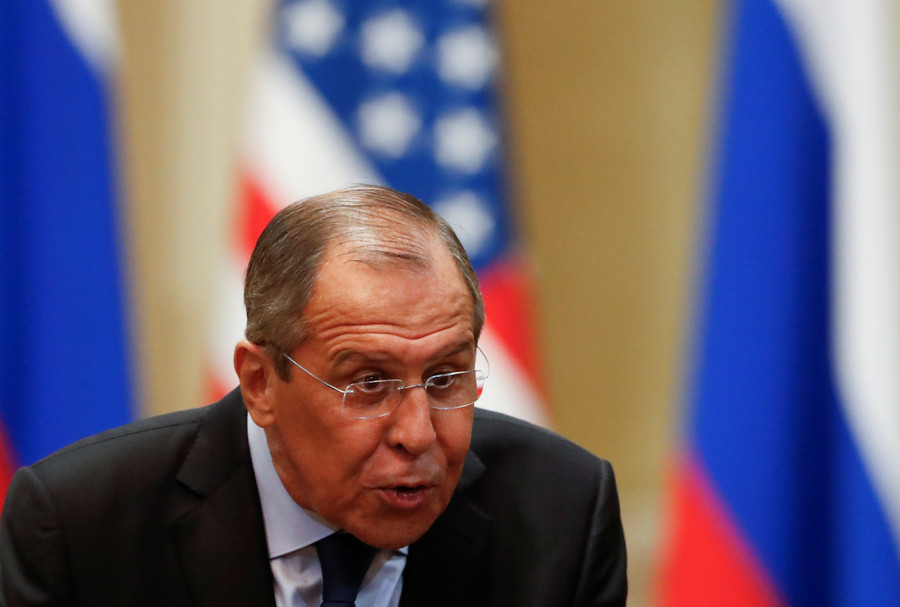 "Was he from Pussy Riot?" joked Lavrov, who is also at the talks, when told of the incident.
In fact, the victim of what appeared to be more of an inept than a vicious removal, was identified as Sam Husseini, an op-ed writer for US progressive publication The Nation (though a search through their archives show only one published article penned by him).
Other journalists later revealed that Husseini was handing out an open letter, calling for the US "to ease tensions between the nuclear super powers" which are "on a collision course" to avoid a "thermonuclear exchange."
Husseini was first escorted out by security for arguing with other journalists and being disruptive; then he returned, holding up his sign, which appeared to be drawn with a marker pen, at which point he was dragged out, despite resisting.
The Nation acknowledged that it had applied for accreditation for Husseini, who works for the Institute for Public Accuracy, a Washington think tank, and called the video of his removal "troubling."
Sam Husseini, communications director of Institute for Public Accuracy, received press accreditation from @thenation to cover summit. As Trump administration consistently denigrates media, we're deeply troubled by reports that he was forcibly removed from press conference.

— Katrina vandenHeuvel (@KatrinaNation) 16 July 2018
Meanwhile, four members of activist collective Pussy Riot have been charged with violating sports spectator laws and unauthorized wearing of police uniforms for their Sunday stunt, and will likely face a fine.