Machine guns, rifles and explosives found at arms depots busted by FSB across Russia (VIDEO)
Published time: 31 May, 2018 12:13
Edited time: 31 May, 2018 12:29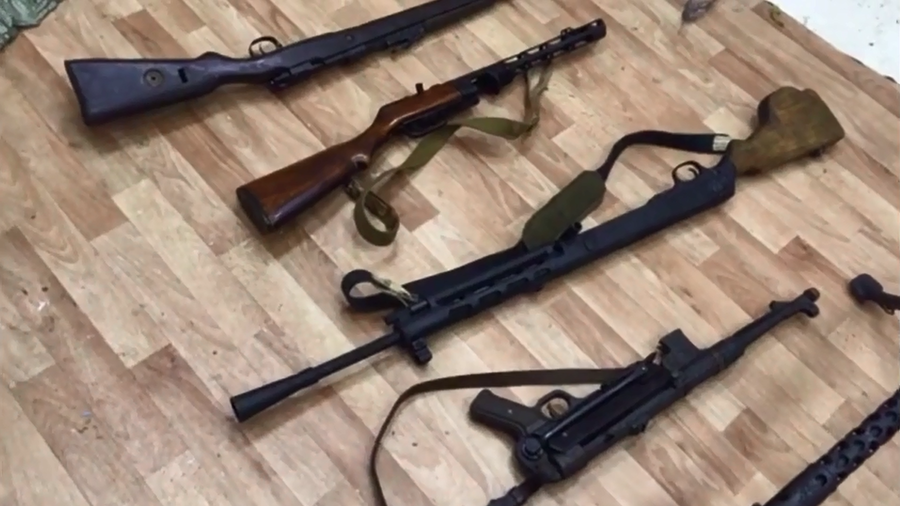 Russia's FSB has uncovered massive illegal arms caches in over a dozen regions. Some of the huge trove was captured on video released by the security service.
A large-scale operation was conducted in 14 regions and some 32 people, linked to illegal arms production or sales, were searched on May 29, it's been revealed. The operation comes just over a fortnight before the opening of the 2018 FIFA World Cup.
The searches revealed some 83 firearms, including RPK machine guns and WWII-era German MG 34s (the Maschinengewehr 34), as well as submachine guns, Kalashnikov assault rifles and sniper rifles. TT, Colt and Walter were among pistols discovered. The arms depots also featured some 4,000 bullets and nearly 20 hand grenades, according to the FSB.
Four clandestine arms workshops in the Moscow, Novgorod and Tver regions were also shut down by the law enforcement.
READ MORE: 'It's safe to go to Russia,' FIFA President Infantino tells Peter Schmeichel Show on RT
This year Russia hosts the FIFA World Cup, starting on June 14. Moscow has beefed up security measures, including bans on weapons and explosive substances. It has also introduced strict checks in public places, and obligatory registration procedures on migration for Russian and foreign citizens.
"Of course it is safe to go to Russia, and it will be even safer to go to Russia during the World Cup... the preparations in terms of security for the World Cup are beyond any other event," FIFA President Gianni Infantino told Danish football legend Peter Schmeichel during his show on RT.
Think your friends would be interested? Share this story!