Putin wants his super-limo affordable to middle class
Published time: 18 May, 2018 12:36
Edited time: 19 May, 2018 10:07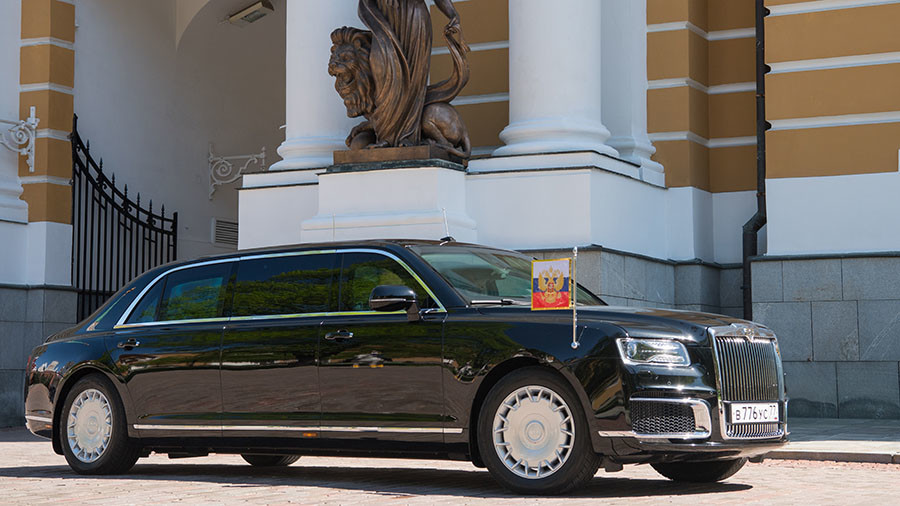 Vladimir Putin has suggested that the brand-new bulletproof cars recently added to his motorcade should be available to more than just the top one percent of the population.
It's crucial to make the vehicles from the 'Kortezh' ('Motorcade') line "affordable not only for the wealthy but people of any income, including middle earners," Putin explained on Friday during a meeting with Sergey Chemezov, the CEO of the state corporation Rostec, which participated in the design of the limo fleet. Putin had already tried out the new car for himself a fortnight ago en route to the Kremlin for his fourth swearing-in ceremony.
Rostec is indeed considering sending the limos for mass production but, it appears, so far only the rich are interested in upgrading their wheels. "I've had quite a number of phone calls from wealthy Russians who would like to purchase such a car,"said Chemezov. He also noted that the vehicles from the 'Kortezh' project will come in all shapes and sizes, from minivans and SUVs to sedans, with even a motorbike model currently in development.
The 'Kortezh' project was initially conceived as a limo line for the Russian political elite. The concept was created by the Moscow-based NAMI State Research Center, partnering with German industry giants Porsche and Bosch. The vehicle underwent extensive testing on a secret government site, and last year Putin personally took one of the prototypes for a test drive.
Now more than a dozen of 'Kortezh' limos are being used by the Federal Protective Service, responsible for the president's wellbeing and logistics. 'Kortezh' has thus become the first Russian-made car regularly used by top officials since Soviet times, replacing Mercedes.
The limo caught international attention, with the foreign press noting its luxurious style, similar to the legendary Rolls Royce Phantom.
It's expected that the vehicles from the 'Kortezh' project will be marketed under the 'Aurus' brand, with the name combing the Latin word for 'gold' and 'rus' for Russia.
Like this story? Share it with a friend!