'I have 2 wives': Duterte jokingly seeks raise in salary
Published time: 24 Feb, 2018 16:46
Edited time: 6 Mar, 2018 13:28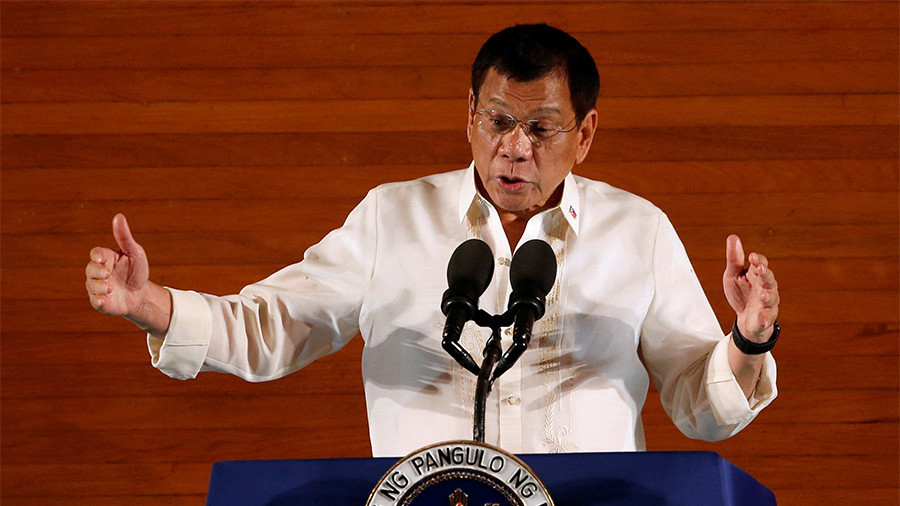 Philippine President Rodrigo Duterte thinks he should be paid more. The Philippines leader argues that, because he has two wives, he should receive more money.
Speaking at Camp General Adriano Hernandez in Iloilo on Thursday, Duterte said his salary wasn't enough, and that it doesn't include a food allowance, the Philippine Inquirer reports. "I get so tired and you know how much I earn? 200 [200,000 Philippine Piso, or $3860] I have two wives." he said. "My ideal salary, if I would estimate it, I should be getting - no joke - one million, five hundred."
In 2016, former president Benigno Aquino signed an executive order to increase the salary schedule of civilian and military personnel. This is done through a four-year basic pay upgrade, Phil News reported.
The president is on Salary Grade 33, making his 2018 monthly pay P298,083, [$5,753]. Duterte is due another salary increase next year, bringing his wages up to P399,739 [$7714] a month.
Duterte has an ex-wife named Elizabeth Zimmerman who filed for annulment in 1998, reportedly due to Duterte's cheating. The annulment came through in 2000. His current partner is Cielito Honeylet Avancena.
"It's very tiring, you keep on flying and saluting," he said of his role as president, The Star reports. Duterte's term as president will conclude in 2022.