Shortest route? Taxi spotted floating in St. Petersburg canal (VIDEO)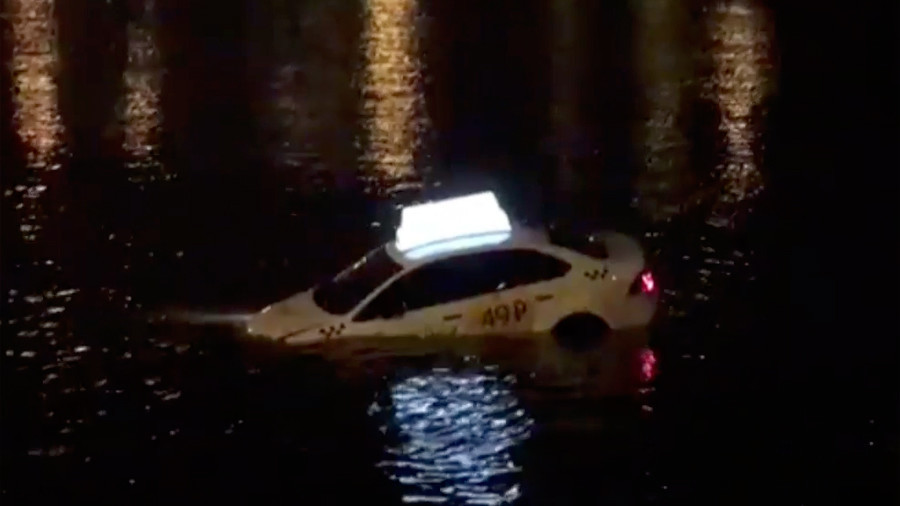 A taxi with its headlights on has been filmed floating in one of the most famous canals in downtown St. Petersburg. With no one harmed in the incident, people took to social media, making jokes about the buoyant vehicle.
"Is this an ad campaign?" a man is heard wondering in the video, filmed during the hours of darkness near St. Petersburg's famous Marsovo Pole (Field of Mars). The landmark is surrounded by canals shaped by the Fontanka and Moyka waterways, with the cab having plunged into the latter.
"Nothing unusual, just a taxi floating in the Moyka in the center of St. Petersburg," the witness, who filmed the scene, wrote on Russia's Vkontakte (VK) social network. The man said there were two people in the car. Both were rescued, having reportedly sustained no injuries, he added. Replying to a comment accusing him of filming the incident and not doing anything more helpful, he said that emergency services had been called first, while all attempts to pull the car out of the water without professional help had failed.
Being apparently reassured of the well-being of the people inside the car, users exercised their sense of humor. The taxi company aimed to outdo competitors by offering "the best river cruises," one comment suggested. Another said the driver was possibly "fed up with huge traffic" and had opted for floating along the canal instead.
READ MORE: 'We'll need a boat': Heavy rainfall hits Russian capital (PHOTOS, VIDEOS)
Other commenters suggested everyone should now wear a life jacket while using cabs. Others alleged the driver was apparently trying to figure out the shortest route with the help of a navigating system "instead of keeping his eyes on the road."