Crooners-in-chief: Five times world leaders have shown off their singing skills (VIDEOS)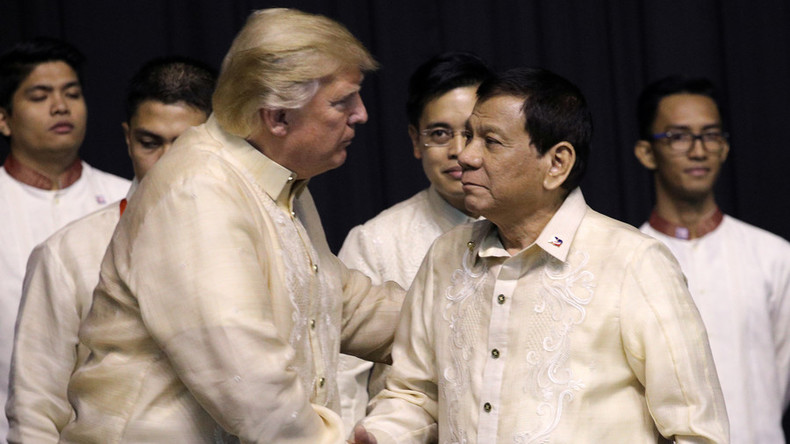 Guests were surprised to hear Rodrigo Duterte serenading US President Donald Trump with a folk song from his native Philippines at the ASEAN summit gala dinner Sunday – but it wasn't the first time that seasoned politicians have shown off their musical chops.
From Putin to Berlusconi, RT.com looks back on the world leaders who have shown off their singing skills – for better or worse.
Silvio Berlusconi
Berlusconi, a singer on cruise ships before making his fortune in construction and media, had the crowd in raptures as he sang a French folk song at a National Meeting of Young Circles in Sorrento just over a decade ago. The former Italian leader has never given up his passion for music, even performing for his one-time UK and US counterparts Tony Blair and George W. Bush during state visits.
In 2011 he delayed the release of 'True Love,' his album of Neapolitan love songs, as Italy continued to struggle to deal with the effects of the financial crisis. In 2015, Berlusconi was reported to have been singing to Alzheimer's patients in the hospice where he was completing his community service for tax evasion. A nurse told La Repubblica that the former Italian leader was accompanied on piano by his friend and former cruise ship performer Fedele Confalonieri.
Stephen Harper
Then-Canadian Prime Minister Stephen Harper was expertly supported by cellist Yo-Yo Ma during his rendition of 'With A Little Help From My Friends' at the National Arts Center Gala in Ottawa in 2009.
Harper reportedly stunned the crowd at the National Youth and Education Trust fundraiser when, interrupting the scheduled intermission, he took his place behind the piano to perform the light-hearted Beatles classic with Ma.
Vladimir Putin
Vladimir Putin famously revealed his personal party piece at a children's charity fundraiser in St Petersburg in 2010, singing Fats Domino's 'Blueberry Hill.'
Taking to the stage, Putin addressed the crowd before sitting down at a piano. "Like an overwhelming majority of people, I can neither sing nor play but I very much like doing it," he said, according to Reuters.
READ MORE: Virtuoso-in-chief: Putin plays anthems of Russia's capitals during intl forum in China (VIDEO)
The audience, including celebrities such as Sharon Stone, Kevin Costner, and Goldie Hawn, cheered the then-Russian Prime Minister's efforts as he sang in accented English, even joining him in the chorus.
Hu Jintao
Known throughout his life as not only a scholar but a singer and dancer, too, former Chinese Premier Hu Jintao showcased his abilities at a party event in 2010. Singing an old Russian folk song, the then-Chinese head of state is joined by party colleagues as the crowd claps along. However, at the end, it was perhaps worth the lives of the attendees to join in the standing ovation once it had been started.
Barack Obama
Barack Obama delivered a couple of lines of Reverend Al Green's classic hit 'Let's Stay Together' during a fundraising event at Harlem's Apollo Theater in 2012. Addressing Rev. Green in the 1,400-strong crowd packed into the site of some of the soul legend's finest performances, the then-US president said: "Don't worry Rev, I can't sing like you, but I just wanted to show my appreciation."