'Splendid isolationism not best - Trump's going to learn hard lesson on Asia trip'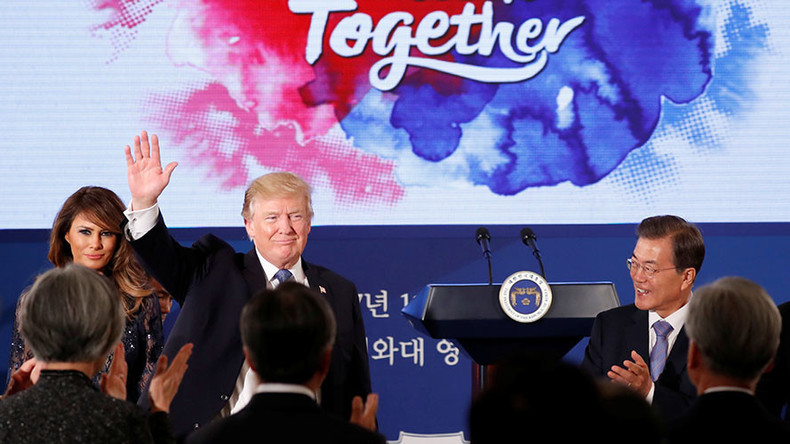 Donald Trump prefers splendid isolation, but in a world of dynamic engagement, there is nothing best done alone anymore, business and leadership speaker Rene Carayol told RT.
US President Donald Trump has welcomed Seoul's plans to purchase billions of dollars' worth of American military hardware. On Tuesday on the third day of his Asia tour, he arrived in South Korea. At a joint media conference with President Moon Jae-in, Trump warned Pyongyang he is prepared to use the "full range" of US military power to stop any attack.
"I think we're showing great strength. We sent three of the largest aircraft carriers in the world... and we have a nuclear submarine positioned," he said, adding that "we hope to God we never have to use them."
He then toned down the rhetoric, adding that he "really believes it makes sense for North Korea to come to the table and to make a deal that is good for the people of North Korea and the people of the world."
During his 13-day Asia trip, Trump is visiting five countries: Japan, China, South Korea, Vietnam, and The Philippines.
But where will America's focus be? RT asked Rene Carayol, business and leadership speaker, broadcaster and author.
"Every one of those countries is important in the region and important to America. But this is about China – China is super important," he said. "America is fighting on so many fronts. Trump has got so many things grabbing his attention. But China should be the center of its focus. It is just got to be."
Commenting on how the North Korea crisis might influence US relations with the countries on Trump's Asia tour, Carayol was rather skeptical:
"If it were the previous president, it would be an opportunity. At the moment it is the opposite of opportunity," he said. "We've seen Trump tone down his language, which is great. But who knows what tomorrow holds. What is really interesting with the Trans-Pacific Partnership that is there – that he decided to pull out off - that it is vital to every one of those nations. It is not just about North Korea – the South China Sea as well," he explained.
The political analyst said that "in a world of dynamic engagement," President Trump "prefers splendid isolation." But "nothing is best on alone anymore," Carayol said.
According to the analyst, Trump "is going to learn that lesson the hard way on this trip."
Trump, Carayol says, needs friends and partners. However, the US president has always wanted to break out of the big partnerships and pick people with bilateral agreements.
"But everyone sort of worked that out: America's muscle is not the place you want to be on in a one-to-one bilateral agreement. You want lots of people around you. Bring them down a little bit, and there is win-win for everyone. I think this is about North Korea, but let's not ignore the South China crisis as well," Carayol said.
It wasn't just the TPP that Trump has pulled out of; he also did it for the Paris climate accord, the analyst recalled.
"There is no club he wants to be part of. But for all of the bellicose rhetoric, for all of the aggressive world, he is no one's fool. He needs those deals. He believes in culpability also on a one-to-one basis. But I think they will be pushing him gently, cajoling him to stay close to the TPP. America can't do it on its own – we've proven that," he said.
During his first stopover in Japan, Donald Trump asked Congress to allocate an extra $4 billion for missile defense enhancements to counter the North Korean threat, and another $2 billion to support his plans for the wider region.
RT asked Sourabh Gupta, Asia-Pacific strategic and economic policy specialist if the request was based solely on the perceived North Korean threat.
Gupta said the US president asked not only for an increase in the missile defense budget, but he might also have "lumped it with some other items, which will be used for other contingencies and other scenarios."
"The missile defense component, as well as refurbishing US vessels" might be among them in addition to the North Korean threat, he explained.
North Korea is not a serious opponent for Washington, considering the level of their technology and lack of money, Gupta said.
"There is no question about that. But the fact of the matter is that there is a fair possibility the US might wish to initiate a first strike on North Korea sometime within the next six to eight months," he added.
He went on to say that "in that situation, the Trump administration is trying to take all measures necessary at its end to be able to protect itself."
"We should view this not from a strategic deterrence perspective and more from a warfighting perspective, where the US can suffer the minimum amount of damage as a result of its first strike on North Korean targets," Gupta continued.