Judge quotes bible, allows ex-husband who battered 'adulterous' wife walk free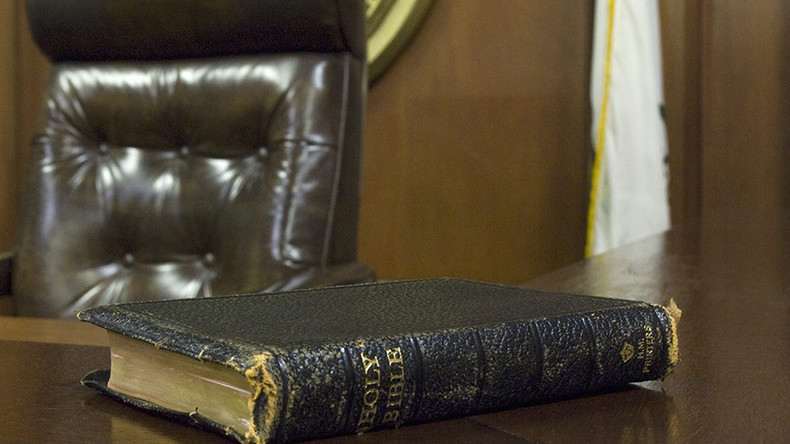 Portuguese judges sparked anger after quoting the Bible as justification for handing down a suspended sentence to a man who attacked his ex-wife with a nail-studded bat. He had alleged that she was unfaithful to him.
The attacker was given a 15-month suspended sentence, and a fine of €1,750, for the 2015 assault, which left his victim covered in cuts and bruises. Prosecutors had argued that the sentence was too lenient and appealed for three-and-a half-years jail time. This request was rejected by appeal court judges on October 11, according to AP.
In the Porto court's written ruling, which became available only on Monday, the judges wrote that "adultery of the woman is a very serious attack on the honor and dignity of man," before further noting that there are still some societies in which "the adulterous woman is stoned to death," as cited by Publico.
"In the Bible we can read that the adulterous woman should be punished with death," wrote judge Neto de Moura, who then went on to use a 19th-century law to justify the lenient sentence for the attacker.
"It was not long ago that the criminal law [of 1886] punished with little more than a symbolic penalty the man who, finding his wife in adultery, in that act killed her. Women's adultery is a conduct that society has always condemned and strongly condemns (and honest women are the first to stigmatize adulteresses), and so she sees with some understanding the violence exercised by the man [who was] betrayed, vexed and humiliated by the woman," he added.
Criticizing the ruling, Attorney General Guilherme Figueiredo said: "It creates the false idea that the adulterous woman deserves punishment, unlike the adulterous man, which can create a wrong idea for violent citizens. We must be aware that there is a very serious problem of domestic violence in Portugal."
Women's rights groups also criticized the judges, with the Women's Alternative and Response Union describing the ruling as "inadmissible" because it legitimizes violence against women. The group also said it planned to hold protest rallies this Friday.