Bedlam over books: Left- & right-wing activists face off at Frankfurt fair (VIDEO)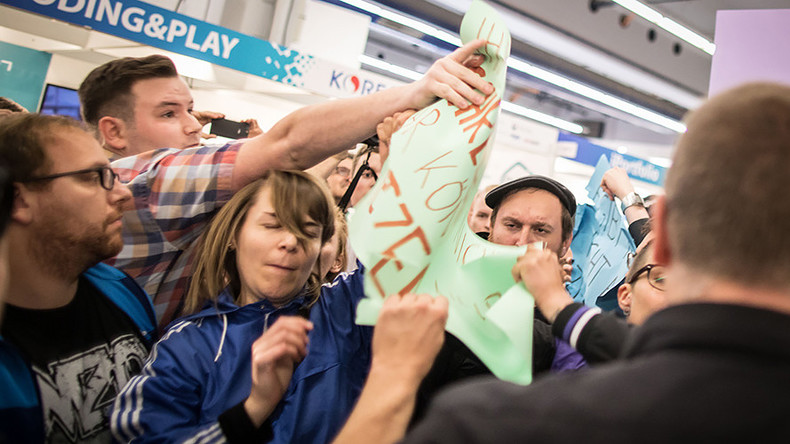 Scuffles and fistfights have been reported between left- and right-wing activists at the Frankfurt Book Fair, after protesters interrupted an event held by a member of the AfD party and a conservative publishing house.
The standoff first began on Saturday afternoon at an event organized by right-wing publishing house Antaios, during a reading held by politician Bjoern Hoecke of the far-right AfD (Alternative for Germany) party. The session was disrupted by left-wing activists shouting "Nazis out!" and holding up signs, one of which read "Still loving books, still not loving hate."
The confrontation between the two groups escalated to pushing and shoving, while some of Hoecke's supporters tried to rip up the signs. Around 400 people were involved in the ruckus before police arrived to separate the two sides.
READ MORe: Hitler's 'Mein Kampf' becomes bestseller in Germany, 85K copies sold in 2016
Things then seemed to calm down until early evening, when a presentation by two authors from the Identity Movement, also affiliated with Antaios, was met with loud boos and whistles, causing it to finish early. Several people were detained.
During the commotion, Nico Wehnemann of Frankfurt City Council claims he was struck down by a private security officer, whom he described as a "Nazi." Wehnemann also said that some of the guests had shouted "Sieg Heil" during a previous meeting.
In a statement, the director of the Frankfurt Book Fair, Juergen Boos, condemned violence as a means of fighting ideas. He also defended the presence of right-wing publishers at the event, citing freedom of expression.
The Frankfurt Book Fair is one of the largest literary events of its kind in the world, hosting around a thousand authors and over 280,000 visitors. There had already been a tense atmosphere in the days leading up to Saturday, as several stalls run by right-wing authors and publishers were damaged or vandalized. On Friday, a left-wing executive of the Trikont Musikverlag music label was punched in the face, leaving him with a bloody lip.