Four dead as French Army plane slams into beach in Ivory Coast (GRAPHIC VIDEO)
Published time: 14 Oct, 2017 17:22
Edited time: 14 Oct, 2017 20:40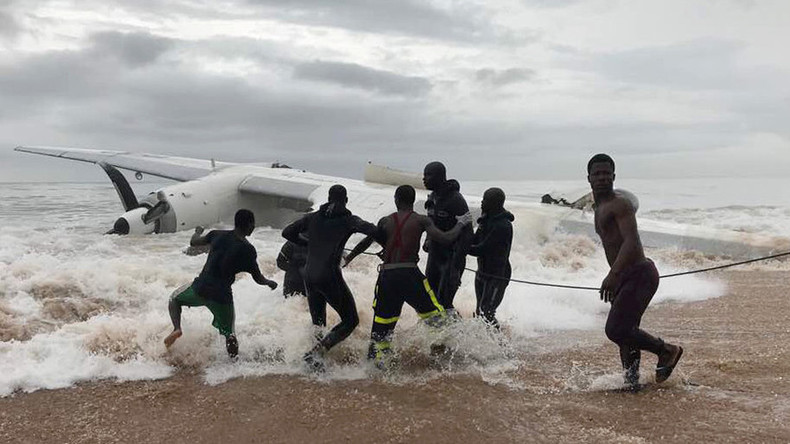 A French military plane crashed into the sea shortly after takeoff from Port Bouet Airport in Abidjan, Ivory Coast (Cote d'Ivoire). Four crew members were reportedly killed and another six were injured
"What we can say for the time being is that this morning around 8:30 (0830 GMT), an Antonov plane crashed... with 10 on board including the crew members," Reuters quoted Security Minister Sidiki Diakite as saying.
Although the plane came down over a populated area, no one on the ground seemed to be hurt. Local people heard the crash and came running, and soon hundreds of people from the nearby Port Bouet neighborhood gathered at the beach, with some trying to help rescue workers and firefighters pull bodies from the wreckage.
"We thought at the beginning it was the waves of the sea in the rain, but the cries of our neighbors caught our attention," a local man, Chrisian Kouame, told AP. "When we went out we saw the aircraft broken by the beach."
As a result of the crash, four members of the crew, Moldovan nationals, were killed, and two more Moldovans and four French soldiers were injured. The plane was transporting supplies from a French military base near the airport which is used as a logistics hub for operations against Islamist fighters in the region.
"This was a plane chartered by the French army in the framework of the Barkhane force in order to carry out logistical missions," French Army spokesman Colonel Patrick Steiger told Reuters.
Authorities later sealed off the area while soldiers and emergency services scoured the wreckage.
It is not yet clear what exactly caused the crash, but the stormy weather may have had a part to play, a 19-year-old student told AP.
"There [were] winds yesterday and I saw how planes seemed to have difficulties in getting up," Ange Koutaye Ismael said.
Ivory Coast is a former French colony in West Africa located between Gambia and Liberia. Its capital, Abidjan, lies on the Gulf of Guinea and is home to over 4.5 million people.