N. Korea won't have 'bright future' if it keeps testing nukes & missiles – Japan PM Abe
Published time: 7 Sep, 2017 10:56
Edited time: 24 May, 2018 12:57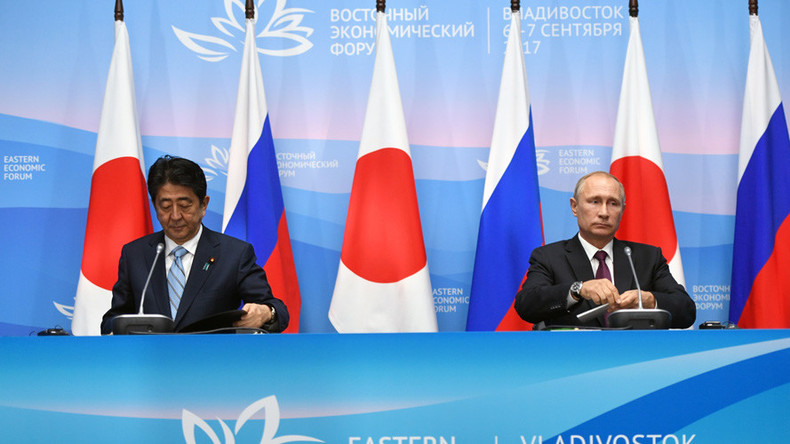 North Korean nuclear and missile programs are a serious threat to global stability, Japan's Prime Minister Shinzo Abe said, adding that if Pyongyang continued to pursue its agenda, it will not have a "bright future."
"Today at the meeting with President Putin we had a profound discussion of the North Korea issue, which is now a threat that requires an urgent response," Shinzo Abe told a joint press conference with Russia's President Vladimir Putin at the Eastern Economic Forum on Thursday.
"This is a serious threat to peace and stability in the Korean Peninsula; this is a serious challenge to the global non-proliferation of nuclear weapons. We have the same understanding of the situation. I condemn North Korea in the strongest verbal form possible for the nuclear testing conducted."
"If North Korea follows this path, it will not have a bright future. This is a message that should be sent to North Korea to make it change its stance," Abe stressed.
Russia and Japan have reached a common understanding of the Korean Peninsula's issues and will cooperate closely, including within the UN Security Council, Abe added.
"Indeed, a lot of attention has been paid to the crisis on the Korean Peninsula at the talks. We've already raised it during the telephone talks on September 3 and today we followed with the detailed discussions," Putin said.
"We have decisively condemned the launch of the medium-range ballistic missile which flew over Japanese territory on August 28, as well as another nuclear test carried out on September 3," Putin said. "Through its actions, Pyongyang indeed creates a serious threat to the peace and security in the whole region."
The president also reiterated the idea that the Korean standoff could be untangled only through dialogue and diplomacy.
"I've reiterated our position to the Prime Minister, based on the idea that reconciliation in the Korean Peninsula, and especially solving the nuclear issue can be achieved only through political and diplomatic means," Putin stressed.