China's naval battle group visits Hong Kong led by aircraft carrier Liaoning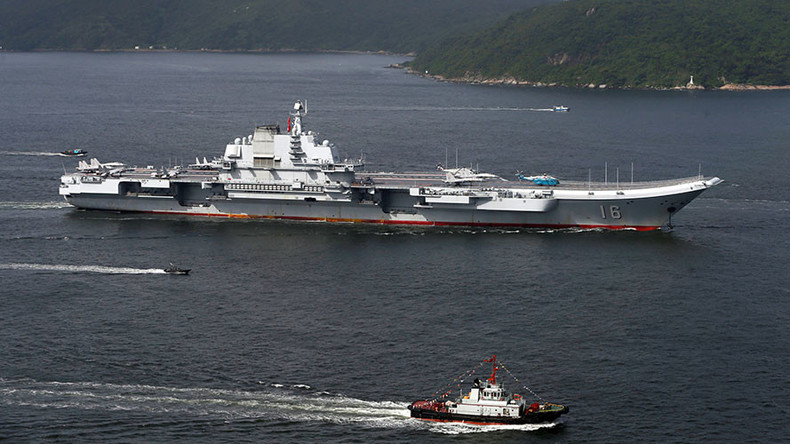 China's carrier battle group has docked in Hong Kong to mark the 20th anniversary of the autonomous territory's handover from London to Beijing.
The Chinese naval group, comprised of the Soviet-made aircraft carrier Liaoning and guided-missile destroyers CNS Jinan and CNS Yinchuan, as well as guided-missile frigate CNS Yantai, arrived at the Stonecutters Island naval base on Friday, where it was welcomed by top local officials.
Twenty Hong Kong police boats accompanied the Liaoning on its maiden sail through the waters of East Lamma Channel just south of Tsing Yi Island. In addition, the city's authorities have made the ships' docking port a no-fly zone, a security measure which will not be lifted until Tuesday, when the fleet makes its debut in the city, the South China Morning Post reports.
The navy and city authorities have organized public tours of the Liaoning and distributed 2,000 tickets, in addition to another 1,600 tickets that were handed out to specific organizations.
Last week, the spokesperson for the PLA Navy said that the port call by the battle group in Hong Kong will give people in the city an "understanding of achievements made in national defense and army building, especially naval building," Xinhua quoted Liang Yang as saying.
China regained sovereignty over Hong Kong in July 1997, ending 156 years of British colonial rule. The city of over seven million is now part of mainland China and is governed by the principle of "one country, two systems." To get the territory back from the UK, Beijing agreed to honor the city's autonomy and preserve its capitalist system for 50 years from the date of transfer.