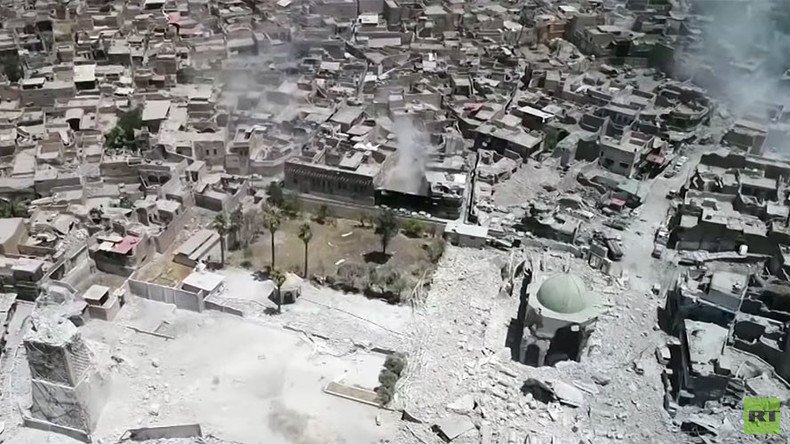 Drone over Mosul reveals massive extent of old city's destruction (VIDEO)
The extent of the destruction of Mosul's old city and its iconic Grand al-Nuri Mosque has been uncovered in new aerial footage captured over the northern Iraqi city.
The video shows crumbling buildings and desolated streets around the once densely populated areas.
The Grand al-Nuri Mosque, which was recaptured by Iraqi forces Thursday, was reduced to rubble after IS fighters detonated explosives as soldiers from Iraq's elite Counter Terrorism Service got within 50 meters (160ft) of the site.
The Iraqi prime minister said the destruction of the religious site, where IS leader Abu Bakr al-Baghdadi had proclaimed the establishment of a caliphate across Iraq and Syria in 2014, signals the imminent defeat of Islamic State.
A recent study from the US Military Academy says that the devastation caused by the fighting poses challenges for restoring basic services in the cities liberated from Islamic State in Iraq and Syria while the terrorists are still a threat to those settlements.
The authors of the study also admitted that the "cities in Iraq appear to experience more post-liberation violence than do cities in Syria."
READ MORE: Life after liberation: West Point report shows ISIS danger remains in Syria, Iraq
According to the UN, the liberation of Mosul has led to the displacement of almost 900,000 people and left 8,000 dead or injured.