Indian state local authorities in hot water after 'poor' stamps on houses
Published time: 23 Jun, 2017 21:03
Edited time: 25 Jun, 2017 08:22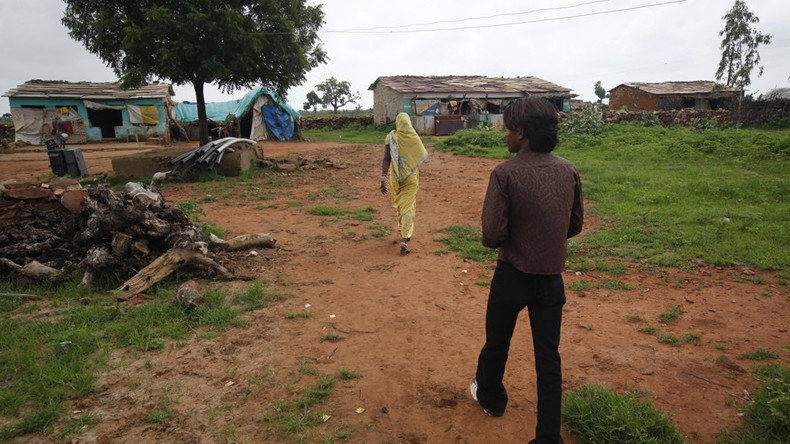 The decision to place 'I'm poor' signs on the houses of people eligible for government support by the Indian state of Rajasthan has offended residents who accuse the the local government of mocking them while prompting condemnation from the opposition.
Between 50,000 and 150,000 households in Rajasthan were recently marked with signs, reading "I am very poor and get wheat through National Food Security Act (NFSA)" or "I am selected under BPL (below poverty line) and get rations under the food security scheme," according to various local media reports.
Some houses had not one, but several signs in red and written in a local dialect placed on it.
State authorities claim the move was necessary to help them facilitate the distribution of state-funded subsidies to families living on less than US$1.25 per day.
They further defended their controversial move by saying they needed to prevent well-earning families from abusing the government support program.
But the owners of the marked households are not buying that explainer, saying they are deeply offended, are being stripped of their dignity and charge that poor people are being mocked by the government.
"All the people passing by see this and make fun of us. We feel ashamed. It is as if the government is trying to provoke us," a Rajasthan man told News18 website.
"For three people, they gave us 15kg wheat for three months. For this, they spoiled our wall. They are mocking the poor people," a woman added.
Another resident told the Hindustan Times that after the markings "it has become difficult to hold our head high."
The opposition also used the controversy as an opportunity to attack Rajasthan governor, Vasundhara Raje, and the ruling Bharatiya Janata Party (BJP).
"It's a sick joke. If the state government provides them ration under the Food Security Act, it's their legal right and not a charity from the government. It proves the BJP governments (in Delhi and the states) are anti-poor," Manish Tewari, spokesperson for Indian National Congress party, said.
Founder of the Swaraj Abhiyan movement, Yogendra Yadav, took to Twitter, "Does such a disgusting joke, or insult, on the poor befit the government?"
READ MORE: India set to overtake China as world population hits 9.8bn by 2050 – UN
Following the national outcry, the local district administration in Dausa where the majority of the marked houses are located, were reportedly told by the Rajasthan state authorities to pull the signs.
"They will be removed soon. The administration is working on it," a senior official from the local administration told The Times of India.