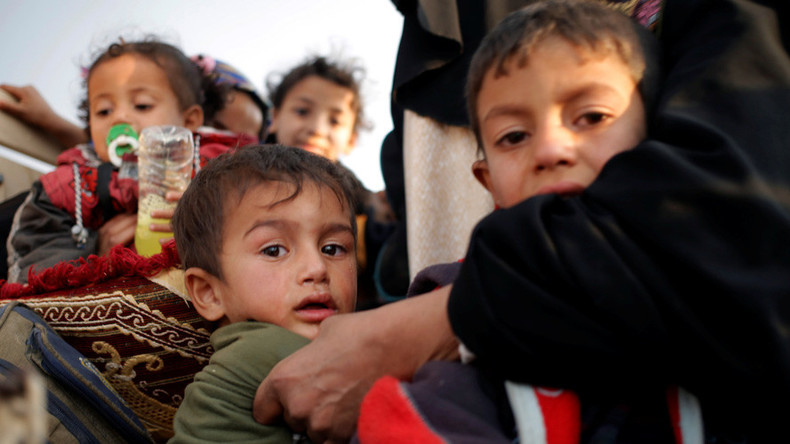 © Goran Tomasevic
Reuters
100k children trapped in ISIS-held Mosul, some forced to fight for terrorists – UNICEF
Minors have been used as human shields and forced to fight on behalf of Islamic State terrorists as some 100,000 children remain trapped in "extremely dangerous" conditions in and around the last ISIS-controlled section of Mosul, the United Nations Children's Fund (UNICEF) has revealed.
"An estimated 100,000 girls and boys remain in extremely dangerous conditions in the old city and other areas of west Mosul," Peter Hawkins, UNICEF's Representative in Iraq, said in a statement. "We are receiving alarming reports of civilians including several children being killed in west Mosul."
Iraqi forces began a push towards the medieval old city in late April. Their advance has been slow due fierce urban combat and the use of civilians by Islamic State (IS, formerly ISIS/ISIL) fighters as human shields.
At present, it is reported that only three neighborhoods – Zanjili, al-Sihha and al-Shefa – around the old city remain under terrorist control. As jihadist fighters continue to hold their ground, Hawkins revealed there have been some instances where minors have been "forced" to participate in the fighting on behalf of the Islamic State.
"In some cases, they [minors] have been forced to participate in the fighting and violence," Hawkins noted, adding that others are "being killed, injured and used as human shields."
To spare the lives of innocent children and other civilians still trapped under the yoke of IS, UNICEF has called on all involved in the battle to spare hospitals and other civilian infrastructure.
"Many are caught in the crossfire and hospitals and other medical facilities have reportedly come under attack," Hawkins noted. "Attacks on civilians and civilian infrastructure including hospitals, clinics, schools, homes and water systems should stop immediately."
Iraqi troops, backed by US airstrikes and special forces, began the battle for Islamic State's main stronghold in the country in October 2016. Operations to recapture western Mosul was launched on February 19 after the eastern section of Iraq's second largest city was liberated in January. As Iraqi forces make the final push to retake the city, at least 200,000 civilians remain in danger.
Hundreds of civilians have been killed throughout the offensive to retake the city of 1.5 million people from the terrorist group. Amnesty International said many civilians were killed by airstrikes inside their homes or in places where they sought refuge, after Iraqi government advice not to leave during the operation to recapture the city.
While the US acknowledges only 352 civilian deaths in both Iraq and Syria since its campaign against IS started, some monitors put the death toll at up to 6,000 in the two countries. According to the Airwars monitor group, coalition actions in Iraq have led to between 1,414 and 2,115 reported deaths in some 170 incidents.