Catalans gather 178,000 signatures to save cow from slaughter due to lack of paperwork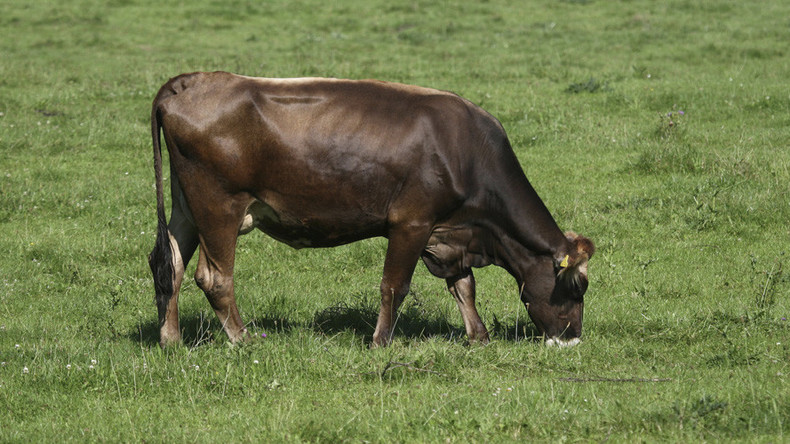 The proposed EU regulated slaughter of an unregistered four-year-old cow named Margarita from Catalonia has prompted a petition to save her which has garnered over 178,000 signatures.
Margarita belongs to a breed used in bullfighting. She was spared as a baby cow since she wouldn't have gained the desired weight to perform. Her owner gifted the cow to a farmer in Tortosa in northeast Spain where she's been living undocumented since.
Margarita hasn't been registered with the agriculture authorities which has no information on her veterinary treatment, a measure EU rules require to trace livestock and control infectious diseases.
READ MORE: 'Cow vigilantes' kill two men over suspected animal theft in India
"There is a law in the European Economic Community that seeks to ensure that all unidentified cattle are killed, but Margarita has never or will never be used as livestock. She's not to be exploited, but she's a pet," animal rights group Hogar ProVegan claims in its petition, which has been signed by more than 178,000 people.
The regional agriculture ministry ordered Margarita's owner to send her to the abattoir and pay a fine of €3,000 saying it's too late to register an adult cow.
Despite the deadline on the slaughter set for Friday, the decision has been postponed in order to examine Margarita's history, local media report.
While activists await the final decision on Margarita's fate, the cow is set to appear on local TV over the weekend.
Nicknamed "sweet Margarita," the cow has made quite a few friends among local residents who come to feed and pet her. The cow has been moved from her field in Tortosa to an animal sanctuary.
In February, Madrid's regional government spared another cow, Carmen, who was diagnosed with bovine tuberculosis after a similar campaign gathered more than 70,000 signatures supporting the animal.
Catalonia banned bullfighting in 2012, becoming the second region after the Canary islands to outlaw the tradition. In 2016, Spain's constitutional court ruled against the ban, saying bullfights are part of Spain's cultural heritage.