Social media fury after Jordanian TV cites notorious fake book to brand Jews 'abhorred & lying'
Published time: 2 May, 2017 11:49
Edited time: 2 May, 2017 12:20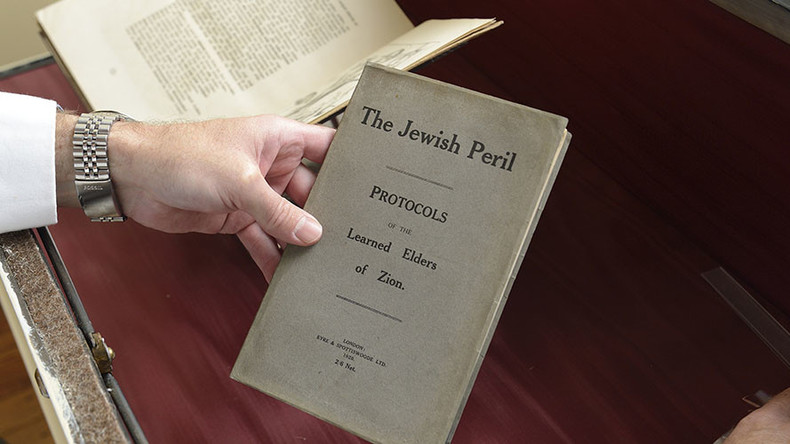 Social media users are up in arms over a Jordanian TV show which put under the microscope the anti-Semitic 'Protocols of the Elders of Zion,' treating the forged book as an authentic text proclaiming Jews the "world's masters, corrupters and executioners."
Host Ayed Alqam starts off the three-part series, aired on Prime TV in April, by calling Jews "an ostracized and abhorred people" notorious for their "lying, fraud, and deception," as well as their "sowing of strife," citing the Protocols as proof of Judaism's direct responsibility for the hardships caused to Arab countries.
Alqam cites the high cost of living in Arab countries as 'proof' of the so-called fourth Protocol, in which the Jews allegedly plan to "destroy religion" and take hold of the world's resources.
"We will control the economy and acquire all the money, so that the world's resources belong to us and nobody else," the host says in the video, citing the fourth Protocol, as translated by the Middle East Media Research Institute.
Social media backlash
However, social media users were quick to trash the program.
"This is not more than an idiot trying to give life to a fake book! I am not sure what agenda he's got, but definitely it does nurture ignorance!" Facebook user Hussein Al Muhtaseb wrote in comments on Alqam's program.
"How in the world peace could be possible if the education of lies hate and misleading are perpetuated at this level?" Ary Rosh wrote on Facebook.
"This publication was already known as a forgery in 1921 but it persists with all other false Jewish conspiracies, pretty weak and sad," Mike Down noted.
"It is terrible that Arab children are taught this," Laurie Cartrett added.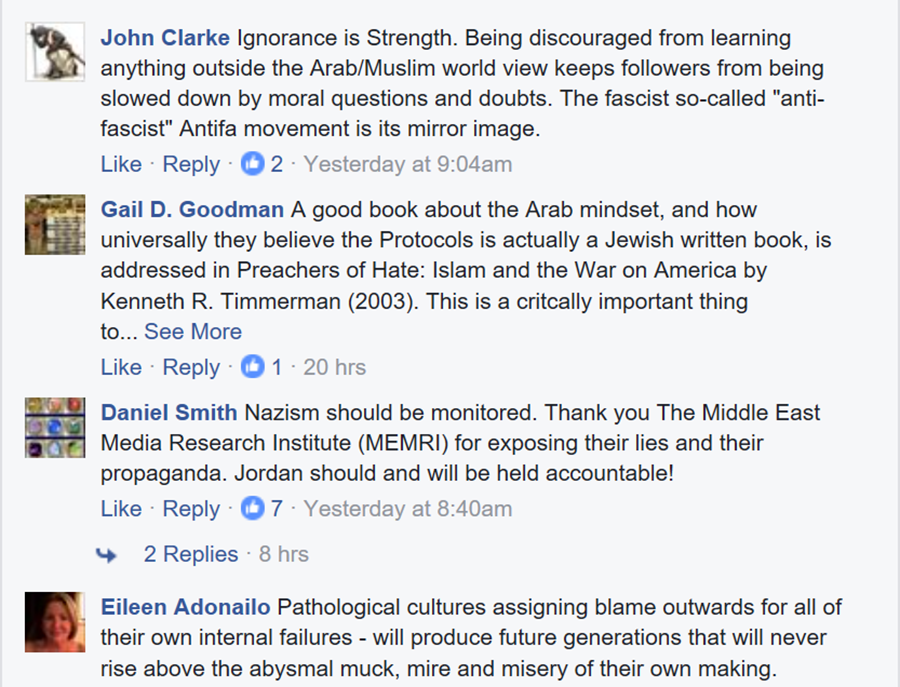 'The Protocols of the Elders of Zion' is a fabricated document describing "a Jewish plan for achieving global domination" which, historians believe, was forged in Tsarist Russia and published in 1903 as a pretext for the persecution of Jews.
READ MORE: 'Wish you well against Jewish invaders': Himmler's letter to Palestinian Arab leader discovered
The notorious book was translated into many languages, winning accolades from Adolf Hitler who, according to a US historian of the Holocaust, Nora Levin, "used the Protocols as a manual in his war to exterminate the Jews." In Nazi Germany it was studied at schools as a real historical document, although by that time the fraud had already been exposed. Some scholars call the Protocols a "warrant for genocide."