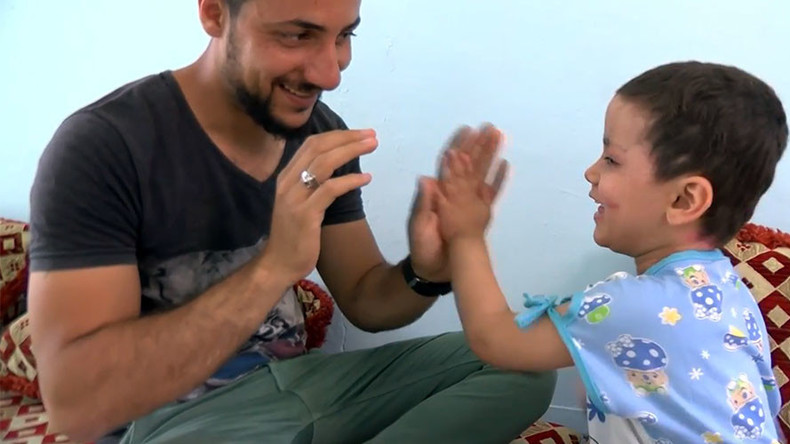 4-yo survivor of US-led coalition airstrike still has shrapnel in her legs & face (VIDEO)
A little girl who miraculously survived an airstrike in western Mosul last month has had her sight restored, but still needs more surgery to remove shrapnel from her body, the family told Ruptly at their new home in the eastern part of the Iraqi city.
Hawraa, 4, was the only person in her house who lived through the airstrikes in al-Jadida neighborhood. Scores of civilians were killed there, including the little girl's mother.
RT has been following Hawraa since first meeting her at an Iraqi Special Services hospital, where her father Alaa managed to bring her three days after digging the child out from under the rubble. They are now living in a rented house in eastern Mosul.
READ MORE: Father of disfigured 4yo Mosul girl shares horrors of US-led coalition bombing (EXCLUSIVE)
Alaa said that, after two surgeries, Hawraa can once again see with her right eye, which was damaged in the airstrike.
"After the first surgery, she opened her eyes, but her right eye could see just a little. When they conducted the second surgery, she started seeing very well. You know, we did not have any hope so our happiness is indescribable," he said.
However, the girl still needs additional surgeries to remove the shrapnel that remains lodged in her body, so Alaa plans to go back to Ebril for treatment.
"She cannot sleep during the night because she scratches [all the time]. Something strange penetrated her body. Look at all the pieces of shrapnel here and there," he explained.
Hawraa also suffers from the memory of being trapped under the rubble and mourns the loss of her mother. Alaa says the girl doesn't want to visit her destroyed home. He himself went there, but says the place felt haunted.
"We were fed up with the situation there. I went back there, and it was suffocating me, with all the [dead] souls walking around," he said.
The Iraqi military says they don't expect to completely retake western Mosul from the Islamic State jihadists (ISIS/ISIL) until mid-May. The United Nations estimates that up to half a million people remain in the area controlled by the militants, trapped in the crossfire and suffering from a lack of food and water.