Filipino fisherman survives 2 months stranded at sea eating moss & drinking rainwater
Published time: 31 Mar, 2017 02:02
Edited time: 31 Mar, 2017 12:01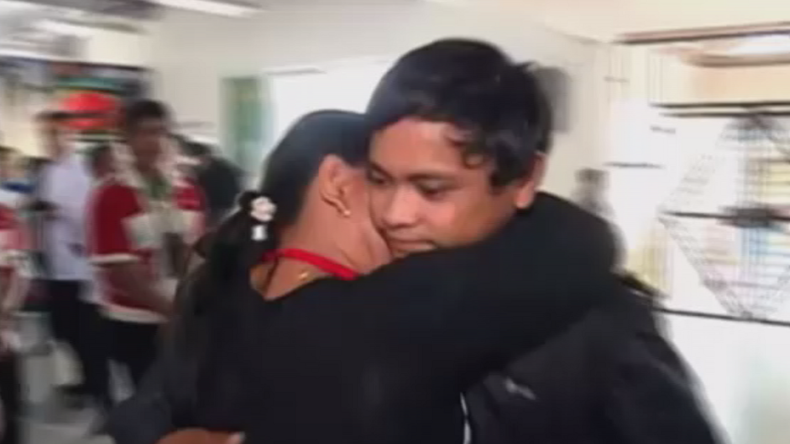 A young Filipino fisherman has finally returned to his homeland having been stranded at sea for almost two months.
Rolando Omongos, 21, survived his ordeal by drinking rainwater and eating moss that grew on his small 8 foot (2.5m) boat, regularly dipping into the sea to take a break from the scorching sun.
Omongos had set off on a fishing expedition with a number of other men, including his uncle Reniel Omongos, on December 21 from the southern Philippines port of General Santos.
However, a storm separated the two relatives from their mothership three weeks later on January 10 setting them on a course for Papua New Guinea, some 2,000 miles (3,200 km) away.
The pair, who were on separate boats, ran out of fuel five days after the storm and dumped their engines overboard to prevent them from being swallowed by massive waves.
Unfortunately, Reniel Omongos did not survive his ordeal, succumbing to the elements after a month at sea. His young nephew recovered his body, tying it to his own small craft but had to let it sink into the sea a few days later when the inevitable happened.
"God, please take care of my uncle. I have to stay alive so somebody would bring the news [to our kin]," Rolando told reporters gathered at Manila airport on Wednesday.
Roughly a month after his uncle passed away, Omongos was rescued by a Japanese fishing vessel, the Wakaba Maru three weeks ago. When they found him he was extremely weak and emaciated, weighing just 20kg (44lbs) a fraction of his normal body weight of 61kg (134lbs).
"I cried nonstop when I was finally rescued. I was too weak to stand up and they had to carry me," he said. "I never lost hope. I was always praying, I told myself, at least one of us had to get back home."