RT's 'Redacted Tonight' up for People's Telly award
Published time: 25 Mar, 2017 14:07
Edited time: 26 Mar, 2017 09:17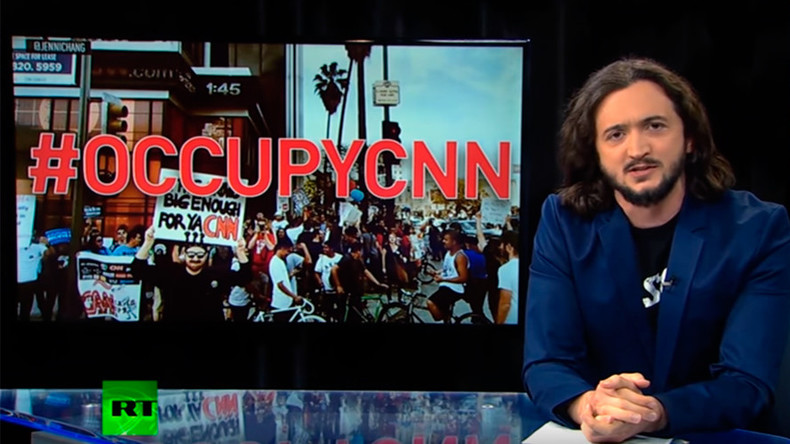 RT's first comedy show "Redacted Tonight" has been nominated for a People's Telly Award – again. Voters will decide the winner at the 38th annual event recognizing excellence in TV programming and video production.
Redacted Tonight is a weekly comedy news show hosted by comedian, author and activist Lee Camp, who has been called the "John Oliver of RT America." The show takes a satirical look at the news of the week, tackling the stories the mainstream media failed to mention and providing new angles on the ones they have.
This year, the show was nominated for its coverage of the #OccupyCNN protests that took place outside CNN headquarters last April.
Make sure to visit the Telly Awards page and vote for Redacted Tonight before the polls close on April 7.
The episode investigates how CNN's election coverage left candidate Senator Bernie Sanders (I-Vermont) out with their "Bernie blindness," giving 23 times as much coverage to Donald Trump while treating Sanders like an "Oxycontin dealer running for the PTA."
Camp asks why the nation's "most trusted name in news" decided to ignore the thousand protesters at their doorstep and continue broadcasting useless information.
Last year, Redacted Tonight Live won the People's Telly Award for a political stand-up comedy show at Caroline's Comedy Club in New York City, featuring Lee Camp and other members of Redacted Tonight.
You can watch new episodes of Redacted Tonight every Friday at 8:00pm and 11:30pm EST on RT. And join the "Redactivist" movement online by subscribing to the Redacted Tonight YouTube channel, so you never miss an episode.