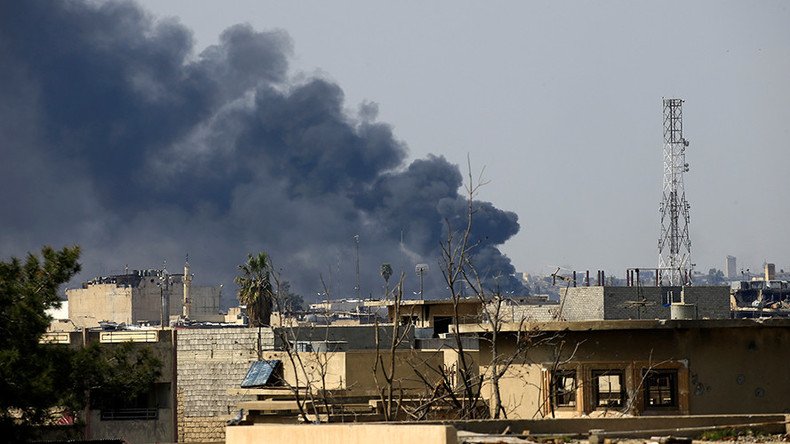 Mosul, Iraq, March 24, 2017 © Youssef Boudlal
Reuters
UN profoundly concerned by 'hundreds of casualties' in suspected coalition airstrikes in Mosul
The UN has urged all parties to the anti-terrorist operation in Mosul to refrain from "indiscriminate use of firepower" after reports by eyewitnesses said over a hundred civilians were either killed or buried under rubble in an alleged coalition bombing raid.
"The United Nations is profoundly concerned by the reports yesterday of a high number of civilian casualties in al-Jadida in Iraq, a densely populated neighborhood in Mosul. Initial reports indicate hundreds of casualties," Farhan Haq, deputy spokesman for the UN Secretary General, told a press conference on Friday.
Since the release of the video of an aftermath of the airstrike on Friday morning, showing scores of dead bodies being pulled up from a completely destroyed house, Pentagon announced it is "looking into" the report of it being a result of a coalition sortie.
"We are aware of reports on airstrikes in Mosul resulting in civilian casualties," Eric Phahon, Pentagon spokesman, said in a statement, cited by Fox News, acknowledging that coalition jets had carried out recent airstrikes in Mosul.
Earlier, the Combined Joint Task Force (CJTF) for Operation Inherent Resolve said in an email to RT that the process of examining the allegations will "take time" as conflicting reports put the airstrike between March 17 and March 23.
Meanwhile, the US-led coalition has "opened a formal civilian casualty credibility assessment on this allegation," as cited by AP.
Lise Grande, UN Humanitarian Coordinator for Iraq, is "stunned by the horrendous loss of life," Haq said, conveying Grande's message of condolences. Grande also called on warring parties engaged in hostilities in Iraq to stick to international humanitarian law.
"Parties to the conflict – all parties – are obliged to do everything possible to protect civilians," she stressed, denouncing the jihadists' tactics of using civilians as cover.
Grande has in particular cautioned against sweeping bombing raids which ultimately result in a heavy civilian death toll.
"This means that combatants cannot use people as human shields and cannot imperil lives through indiscriminate use of firepower," she was cited as saying.
While no side in the conflict has officially claimed responsibility for the alleged bombing, unnamed US officials told Los Angeles Times the preliminary data indicates that such a heavy impact from a reported strike might have been a result of a jet hitting a truck, filled with fuel or explosive materials.
Up to 200 civilians have been killed in the airstrike in the embattled western Mosul, where Iraqi troops backed by the US-led coalitions are pushing hard to flush out Islamic State (IS, formerly ISIS, ISIL) militants.
The large-scale offensive that saw the eastern part of the city being recaptured by Iraqi forces has been dragging on after reaching Mosul's Old City, which includes the heart of the so-called Islamic caliphate, proclaimed by IS in the al-Nuri mosque back in 2014. The narrow alleys of the historic center hinder movement of Iraqi troops and prevent its advance further into the western part of the beleaguered city.
READ MORE: Mosul SOS: City strewn with corpses, children cry as jets fly over (RT EXCLUSIVE)
On Friday, the spokesman for the US-led coalition, US Army Brigadier General John Richardson, announced that in light of the latest impediment, the Iraqi forces will be altering their tactics and aiming to encircling the Old City from two sides forcing, the militants to surrender.
"They [Iraqi forces] are looking at opening another front to force ISIS to fight in two directions and isolate the Old City, so when it is time to go into the old city, potentially they surrender," Richardson said, as cited by Reuters.
Iraqi military commanders hope that the new approach will bring rewards in the immediate future.
"In the next few days we will surprise Daesh terrorists by targeting and eliminating them using new plans," Iraqi army spokesman Brigadier General Yahya Rasool said.