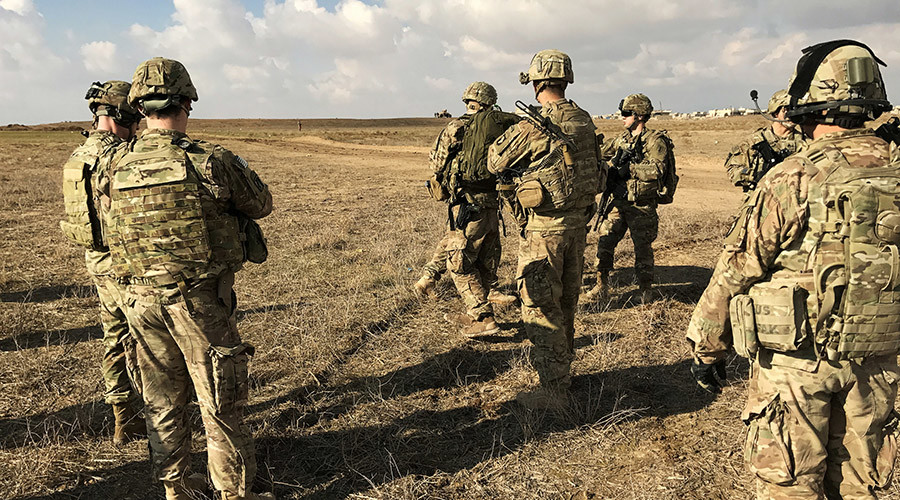 U.S. soldiers gather at a military base north of Mosul, Iraq © Mohammed Al-Ramahi
Reuters
US-backed Iraqi troops launch renewed push on ISIS-held areas of Mosul city center
US-backed Iraqi troops have launched a renewed push towards the Mosul city center, which has been held by Islamic State militants, the Iraqi military said, as cited by Reuters. Earlier UN data showed that 750,000 people may be trapped in the city.
Iraqi forces are advancing from the south and the southwest towards the old center of the city, Brigadier-General Yahya Rasool, spokesman for the joint operations command, told state-run television, Reuters reports.
Iraqi Counter-Terrorism Service units have pushed through the Tal al-Ruman and the Somood districts in the southwest, Rasool added.
Soldiers from the rapid response team are also progressing through the Dawasa and Danadan districts, a few hundred meters from government buildings in the besieged city, a media officer with these interior ministry units told Reuters.
These buildings are reportedly destroyed and are not used by Islamic State (IS, formerly ISIS/ISIL) militants. However, taking this part of the city would help the Iraqi forces to advance and to restore control over the city.
The Iraqi operation, backed by the US, to retake Mosul, which has been held by IS since June 2014, was launched back in October 2016. In January 2017, Iraqi forces captured the eastern side of the city and set the goal of liberating its western part.
In February, Prime Minister Haider al-Abadi announced a new phase of the operation. Later, the forces retook Mosul's airport from Islamic State and stormed a military base in a bid to enter west Mosul.
On Friday, the UN Refugee Agency said that about 4,000 people a day "are escaping the embattled west of the city."
"In the last few days, sizeable numbers have begun fleeing worsening security conditions and a dire humanitarian situation in west Mosul," said Bruno Geddo, UNHCR's representative in Iraq.
"We remain concerned for the safety of civilians and urge the authorities to ensure safe passage for all those fleeing."
About 192,000 Iraqis have been displaced from the city, UNHCR said, adding that 750,000 are believed to still be in Mosul.
"There were so many mortars falling. We had no rice, no bread, no milk. There was nothing for the children," Mosul resident Kifah told UNHCR.
READ MORE: We are struggling to cope with numbers fleeing ISIS & govt air strikes – Mosul aid worker to RT
On Saturday, Elisabeth Koek, advocacy and information adviser at the Norwegian Refugee Council (NRC) in Iraq, told RT that humanitarian groups are struggling to cope with the number of people fleeing the besieged city.
"Civilians are fleeing en-masse and they are telling us that they are terrified – of both what they face at the hands of ISIS, but also the bombs from the air strikes that fall on their heads," she said.