Concrete barriers placed outside crowded places in Moscow for holiday season (PHOTOS)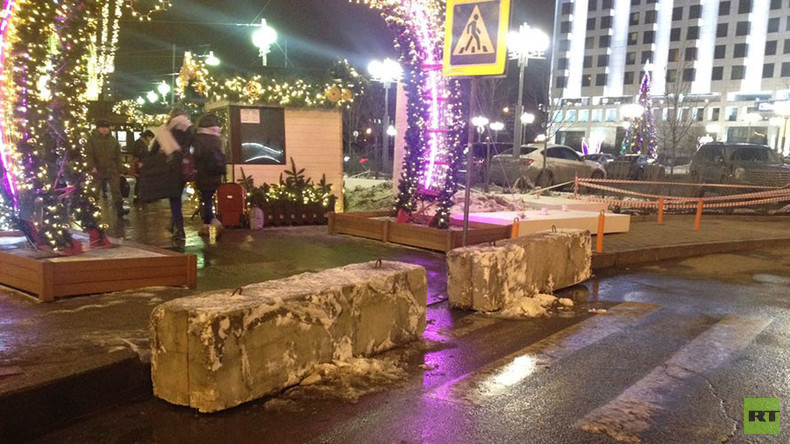 Defensive concrete blocks have been put around Moscow's Christmas and New Year markets, next to metro stations and other crowded places. The measure is being undertaken to "minimize potential threats."
City authorities have introduced "normal safety measures which we apply during serious mass celebrations in the city," Vladimir Chernikov, of the Moscow Department of Regional Security and Anti-Corruption Unit, told RT. "We are interested in doing everything to minimize possible threats."
Trucks have also been put outside places of celebrations. This one is seen near Kuznetsky Most metro station in the center of the Russian capital.
"The enemy shall not pass!" a comment reads.
Some people have reacted negatively to the concrete blocks, saying that they are ugly and spoil the holidays.
"Holidays are coming," one person wrote sarcastically on Twitter.
Earlier in December, the head of Moscow's traffic police, Viktor Kovalenko, told RIA Novosti that city police would block access to venues of mass celebrations. The statement came after a day after a truck drove into a Christmas market in Germany, killing at least 12 people.
"Heavy trucks will be used to close off major junctions" leading into areas with public celebrations, Kovalenko said. "We understand and see events happening in the world."
Authorities also plan to inspect cars for weapons or any prohibited substances, he added.
Moscow is not the first city to introduce such barricades during Christmas holidays. Earlier in December, the German city of Dresden said it was putting concrete barriers around Christmas markets.
Police forces in Britain also stepped up patrols at Christmas markets across the country, after the tragedy in Berlin sparked fears of copycat terrorist attacks. Eleven UK police forces confirmed the deployment of anti-terrorist squads at Christmas markets, shopping centers and other tourist hotspots until the end of the season.