'Freedom!' Refugees stage rooftop protest at detention center in Madrid (PHOTOS, VIDEO)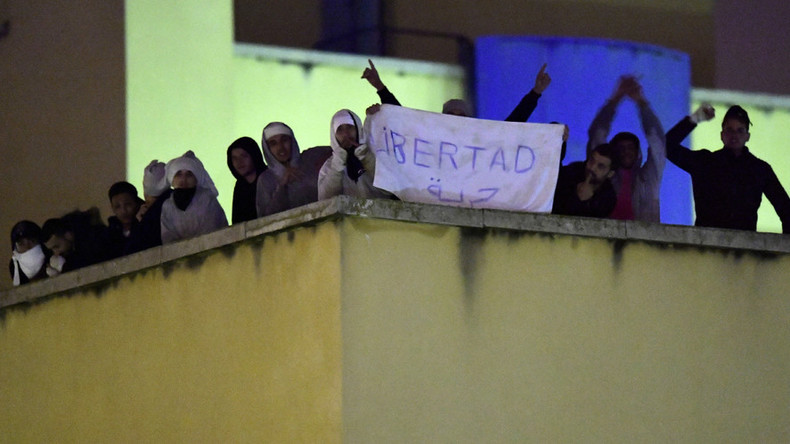 Dozens of inmates staged a protest at an immigration detention center in Madrid last night by breaking furniture and climbing to the building's roof as a crowd gathered outside to show their support.
Detainees from the Foreigner Internment Centre (CIE) – a facility for immigrants in the process of being deported – made their way to the roof on Tuesday at 10 pm local time. A police spokesman told El Pais newspaper that they had broken a security gate and climbed a ladder to reach the top of the building.
One protester could be seen holding up a sign that read "libertad," meaning "freedom."
Sources from the local police headquarters told Efe newspaper that around 50 refugees were involved in the protest.
Some of the migrants blocked security cameras inside the building and broke furniture to make their way to the roof, El Pais reported.
Security officials alerted police, who arrived 10 minutes later and began to negotiate with the protesters.
The migrants gathered outside the building in the early hours of Wednesday, shouting "freedom!" while about 15 sat on the roof in light rain, AFP reported.
Javier Barbero, councilman of safety and emergency services, told El Mundo that he was unsure of exactly what the demonstrators were demanding, as they had no spokesperson, but expressed the hope that the situation would be resolved in a peaceful way.
Police prevented Barbero and other city officials from entering the building, however, forcing them to speak to the protesters via a megaphone, according to multiple reports.
Madrid Mayor Manuela Carmena tweeted that she was "concerned" about the protest, adding that "human rights are the priority."
Sigo preocupada lo que ocurre en el CIE, en contacto con @ConchaDancausa, que agradece nuestra disposición a mediar. Los DD HH son lo 1º.

— Manuela Carmena (@ManuelaCarmena) October 18, 2016
A spokesperson for Carmena said that no one was harmed in the incident.
Meanwhile, a crowd gathered at the center to support the demonstrators, shouting "You are not alone!"
The CIE center is home to 120 inmates awaiting deportation, of which 90 are Algerians, according to El Mundo.
Activists have long expressed concern about Spain's seven immigration detention centers, some of which have overcrowded rooms, dirty toilets, and a lack of social services and translators.