Furious pet owner smacks vet with dead cat, breaks doctor's nose in fight (VIDEO)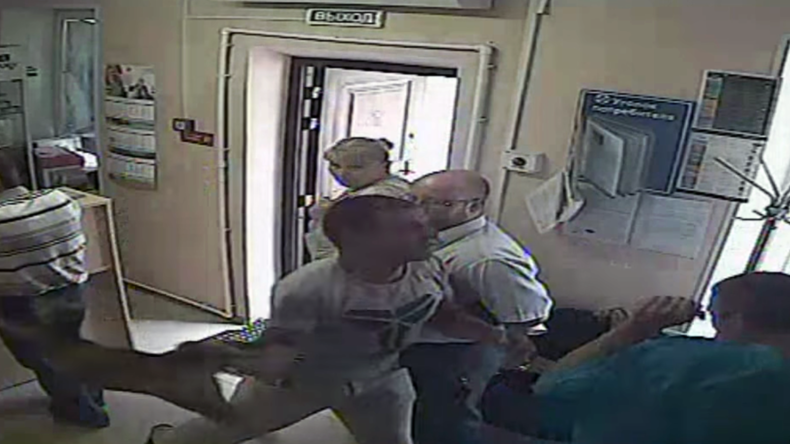 A video has surfaced from the Russian Far East showing a cat owner who, angered by the death of his pet, returned to the clinic with friends and hit a vet with the dead animal. The doctor had his nose broken in the ensuing violent brawl that followed.
The fight took place at an animal clinic in Vladivostok last summer, but the video was posted online only recently in hopes of attracting attention to the fact that the assailants only faced civil charges, despite the doctor receiving a broken nose and a concussion.
"It was an ordinary day, I was seeing patients. Then suddenly a man rushes into the clinic and starts throwing his cat at people," Yuri Pakhomenko, the assaulted veterinarian, told primamedia.ru local news portal.
"He tried punching a student, our intern. So I intervened. I haven't seen these guys in our clinic before. They weren't with it. I am determined to start a criminal case," the vet said.
The clinic administrator allegedly called the police during the fight, but they only arrived three hours later after a second call. By that time, the cat-throwing pet owner and his gang had already left.
According to the clinic, the cat in question had been squashed by a window frame, but the owner waited too long to bring it to see a doctor, and it was too late.
At the end of the video, a man can be seen lying on the ground outside the clinic – allegedly a passer-by who suffered an epileptic seizure, whom the vets reportedly helped.