Drone VIDEO shows ruins of Kinsabba town after Syrian army liberates town
Published time: 10 Aug, 2016 20:14
Edited time: 10 Aug, 2016 20:44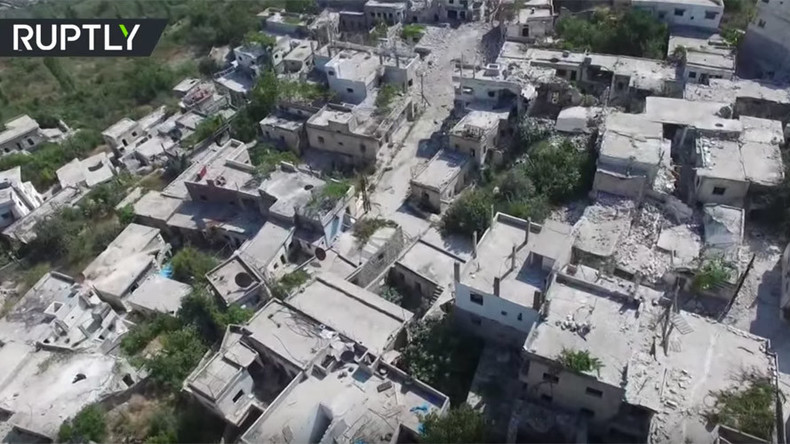 The footage released Tuesday shows gruesome consequences of the ongoing civil war in Syria with each and every building in the town of Kinsabba bearing signs of shelling after heavy fighting between the Syrian government forces and militants.
The Syrian Army and allied Shia militia liberated rebel-held town of Kinsabba along with nearby areas in the northeastern Latakia province that had been held by the Jaish al-Fatah (Army of Conquest) militant group consisting of Al-Qaeda affiliated militant groups.
The operation was conducted by military force of the Desert Hawks Brigade, the National Defense Forces (NDF) and the Syrian Marines.
The town was turned into giant minefield by jihadists, trying to hinder the offensive of the Syrian Arab Army.
The drone buzzes through the town showing broken roads and damaged buildings with almost no stone left standing. It looks like there is not a single person at the site and it's hard to imagine that some time ago the place was inhabited.
Kinsabba had a population of 514 people in 2004, according to the Syria Central Bureau of Statistics (CBS).
Kinsabba, often called "Gates to the Kurd Mountains" holds a convenient position between mountains and ravines.
The town considered an important strategic point was retaken by the government forces end of July which fell under militants' control in June. Troops loyal to Damascus were able to neutralize the surrounding area just recently.
The humanitarian crisis in the war-torn Syria has deepened over the recent weeks with Russian-backed government forces moving closer to the militants' positions in an effort to regain control over rebel-held areas.
The UN has called for renewed peace talks and a ceasefire to allow for humanitarian relief to the worst-affected areas.