'They were holding hands': Russia boating disaster victims fought for life to very end
The children who died in a lake storm in the Republic of Karelia, Russia, tried to help each other till the very end, with many still holding hands when their bodies were discovered. Some kids not only survived, but managed to save their friends.
Monday has been declared a day of mourning in Russia after 13 children drowned, with one still missing, when their boats capsized during a storm on Syamozero Lake in Karelia, northwestern Russia, over the weekend.
Follow RT's LIVE UPDATES on Russian tourist boat disaster
At least five employees of Park Hotel Syamozero summer camp have been detained and face charges of criminal negligence for sending 47 children and four teenage instructors on a boating trip in bad weather.
Locals who were first to come to the rescue said that the victims "held really tight to one another," RT's Roman Kosarev reported from Syamozero.
"They were holding hands in a sort of a chain. Once they began to take them apart it turned out that some of the children were dead and some had actually survived," he added.
One local man, who lives near the lake, has shared some heartbreaking details of the rescue operation with RT.
"I was walking along the shore and saw a girl. I went into the water to get her. She was dead," he said.
Later when they were passing group of islands on a boat "we saw something red, which looked like a plastic sheet. We went ashore and lifted the sheet – and the kids were there. We found five of them there," the man added.
The parents of one of the survivors told the media that their daughter, Vlada, not only saved her own life, but "rescued a boy… She swam for 3km."
Read more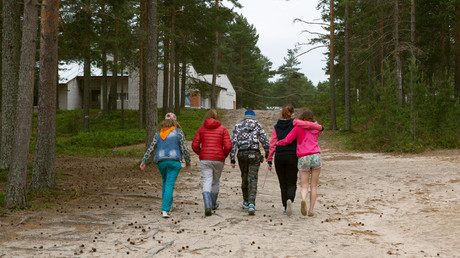 The sister of another survivor told RT that her sibling "was on a boat and she says she was the only one, who was washed ashore. And all the other children from that boat drowned. She spent an entire night alone on an island waiting to be rescued."
The children had to spend hours in the freezing water as the tragedy, which occurred on Saturday, only came to light after a 12-year-old girl, Yulia, managed to swim to safety and raise the alarm.
"I tried to hold my brother's hand in the water, but we were separated," Yulia recalled.
She was "washed ashore and lay unconscious till the next morning."
The girl said that on her way she found a boy and managed to take him out of the water and tried to resuscitate him mouth-to-mouth, but "he was already dead."
Yulia had to walk for four hours without shoes to find people and ask for help.
"I knocked at three houses until I found someone at home," she said.
The Investigative Committee says the kids and instructors asked for the ill-fated boat trip to be canceled due to bad weather, but the camp's administration still told them to go.
The director of Park Hotel Syamozero, who is under arrest, knew on Saturday evening that the children hadn't returned, but apparently didn't think this was anything out of the ordinary.