VIDEO: 3 reported dead as huge fire devastates factory near Moscow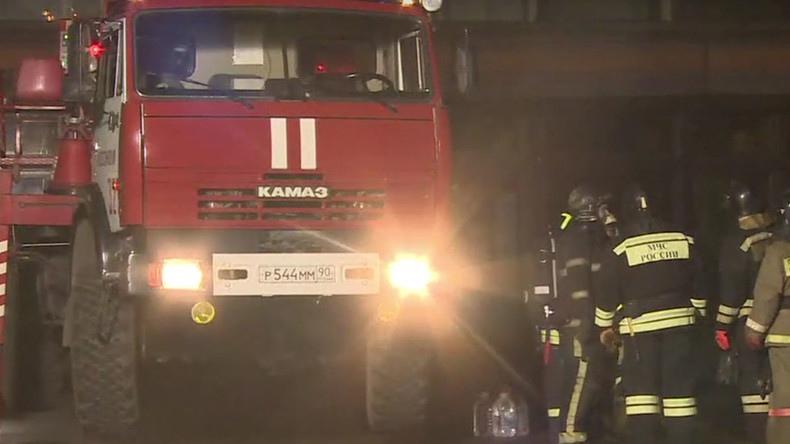 At least three people have died and two firefighters are reportedly missing at a burning furniture factory in a Moscow suburb. The blaze, which spread over 3,700 square meters and led to a massive roof collapse, is being battled by some 120 firefighters.
The blaze started at a furniture factory in Fryazino in Moscow region on Thursday. The big one-story building is owned by an Italian furniture factory called Moder, TASS reported.

At least one factory worker was evacuated from the already burning and smoke-filled building, and two firefighters have been hospitalized due to smoke inhalation. However, two more rescuers are reported to have gone missing while trying to save more people.
"The bodies of a woman and two men who were factory workers have been found. The fate of two fire fighters with whom contact was lost during the fire extinguishing efforts is being ascertained," law enforcement told TASS.

An enormous 1,800-square-meter section of the factory's roof collapsed in the rapidly spreading fire. Dramatic media reports said the rescuers had managed to carry some gas cylinders out of the building in time to prevent a blast.
The Russian Emergencies Ministry said the firefighting crews have managed to stop the fire from spreading further.

"The fire is not spreading. The blaze was localized at 1:02 am Moscow time in an area of 3,750 square meters," Vadim Malyshev, local Emergencies Ministry department head, said.
It is estimated that the firefighters will need at least one day to fully extinguish the blaze.

The cause of the fire is reportedly unknown and will be investigated.
You can share this story on social media: