School head wows internet by leading 'last bell' dance with pupils (VIDEO)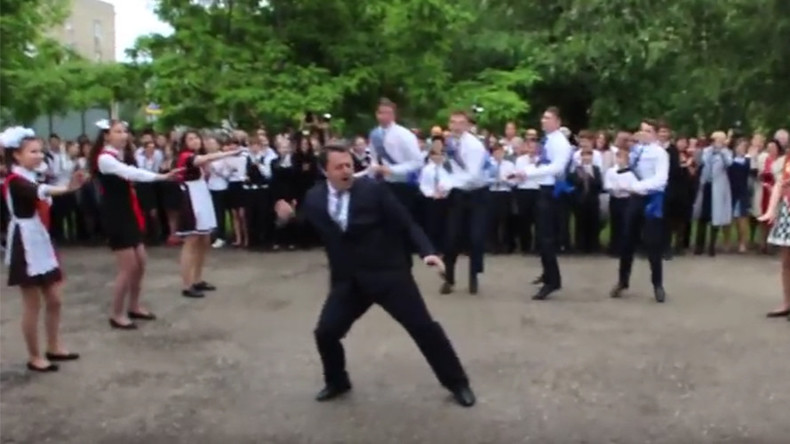 A Russian principal joined his students in a 'last bell' dance flashmob on the final day of school, in the process becoming an overnight internet sensation. Considering he only had three rehearsals, it has to be said he didn't do too badly!
The final school bell rang out all across Russia this week – a time normally associated with crazy shenanigans. But before high school graduates flood the streets in a joyful stampede, each school engages in its own mini-tradition. These can involve poetry reading, the acting out of scenes from plays, singing, and various other displays of talent by students and teachers.
This year, teachers at the East European Lyceum located in Russia's Saratov took it up a notch.
Accompanied by several students as backup dancers, the high school's principal, Roman Ovsenev, leapt out onto the school yard and launched into a dance number to a catchy Russian pop tune from the nineties.
When Region 64 News contacted Ovsenev, the principal was immensely surprised, but pleased that the video had gone viral in Russia, including being broadcast on the nation's favorite evening talk show.
"I honestly hadn't expected it," he said. "I'm just surprised so much hullaballoo was raised over this, to be honest. It's great, of course, when you see such a positive outpouring of comments online – so, feeling really grateful for that."
The principal believes that such a positive connection between the student and teacher body does a lot for student life and has a positive impact on grades. "We see each other not only through the prism of some business transaction, but as human beings. I think it's exactly how it should be," he added.
"I'm not ashamed to take the stage with my kids – whom I love and respect – and to put smiles on their faces. After all, it's a massive occasion for them."