Power grab: Pro-austerity party back in control of Ireland despite 'losing' last election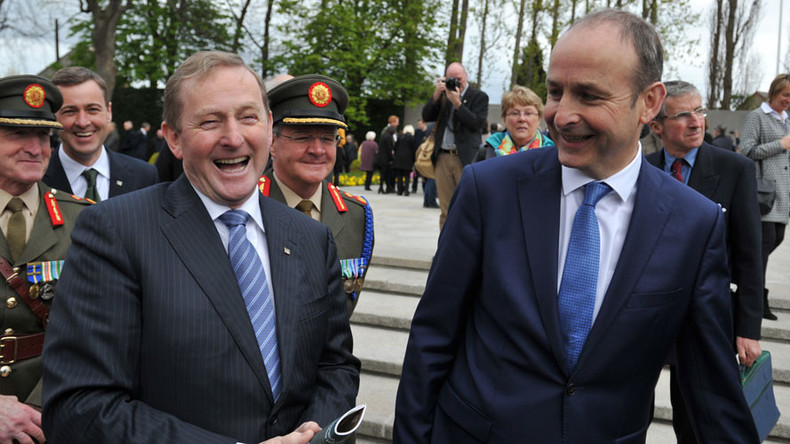 While Spain's leftist parties failed to form a government this week, prompting a new election in June, Ireland got its act together Friday as the two top parties put aside historic differences for the good of their shared neo-liberal, pro-austerity platforms.
A hundred years after the Easter Rising inspired what became an independent republic, center-right Fine Gael and centrist Fianna Fail agreed to a minority government headed by the caretaker Taoiseach (Prime Minister) Enda Kenny.
He was re-elected to his post by the Dáil (parliament) on the fourth attempt by 10 votes, more than 70 days after voters went to the polls.
To govern is a great responsibility & a great honour. I am humbled by the opportunity. We will give all we have to creating a fairer Ireland

— Enda Kenny (@EndaKennyTD) May 6, 2016
The unprecedented arrangement between the former Irish Civil War rivals was finalized this week ahead of the 59-to-49 vote, which was nearly half the number Kenny received in 2011.
Enda Kenny had 117 votes for Taoiseach in 2011. Today he was elected with about half that - 59 votes #Dail

— Will Leahy (@willleahy) May 6, 2016
Kenny makes it by skin of his teeth with 59 votes, one to spare for minority Gov

— Mary Regan (@MaryERegan) May 6, 2016
This marks the first time a Fine Gael Taoiseach has ever been re-elected and represents a partial return to power for Fianna Fáil, the party in charge during the devastating financial collapse and subsequent austerity.
Fine Gael has consistently blamed Fianna Fáil for destroying the economy, and the other parties have blamed both of them for their stifling austerity measures which have increased homelessness, privatization, and emigration.
Micheal Martin and Fianna Fail like to talk about crisis but they ignore the fact that they CREATED it. #leadersdebate

— Fine Gael (@FineGael) February 23, 2016
Fianna Fáil says it has agreed to "facilitate" the Fine Gael-led minority government, despite saying nasty things about them during the campaign.
Bizarrely, in what looks to be a get-out clause, the party insist they will be an "independent opposition party" and are not a party to the program for government.
Heading into yet another contentious vote for a government leader Friday, there was speculation as to whether Enda Kenny could rely on the support of independent politicians.
Independent Alliance have arrived in the House. Looks like FG about to pull this over the line, just about.

— Mary Regan (@MaryERegan) May 6, 2016
Irish Labour leader Joan Burton revealed her party would be voting against their former coalition partner, labeling the Fine Gael-Fianna Fáil government arrangement "a charade."
"Let's be very clear: it's a coalition - a coalition of convenience that puts naked political self-interest ahead of the people's interests. Two deeply conservative parties have ended their pretence civil war and done a deal. But it's a tawdry deal on a whole number of levels that carries the real risk of undoing the hard-won progress made since Fianna Fail collapsed the economy," Burton said.
Burton described Fianna Fail's involvement as one of self-interest.
"Fianna Fail will effectively have their boot on the throat of the Taoiseach, meaning they can push through whatever they like, reject whatever they like, and collapse the arrangement whenever they choose," the former Tanaiste (Deputy Prime Minister) said.
Joan Burton tells us she will be voting against Enda Kenny and this "deeply flawed arrangement".
Like the one before? #dail

— Nessa Childers MEP (@NChildersMEP) May 6, 2016
Anti-Austerity Alliance politician Ruth Coppinger said, contrary to Fine Gael's claim, the government was a new political reality and "continues the neo-liberal trend."
"I think there will be a collective groan in every living room of the country today to see somebody - and it is not personal Taoiseach - but 75 percent of people did not want you returned as Taoiseach and they did not want Fine Gael in a position of power," Coppinger told the Dáil.
"I'd say this to Fianna Fáil today, if you think you can ride two horses of supporting the government and leading this opposition, think again," she added.
Following the vote, Sinn Féin party leader Gerry Adams criticized the new government, saying it does not have "the support of the majority of citizens."
"The joint Fine Gael-Fianna Fáil program is a masterclass in waffle and bluster. No real ambition. No big ideas. No costings. Little real detail," Adams said, who blundered earlier this week by tweeting the N-word after watching Django Unchained.
Adams also laid into Kenny's new partners in government, Fianna Fáil, for giving away ground on their promise to scrap the controversial austerity-driven water charges.
"On the issue of water, which was the main point of contention between Fianna Fáil and Fine Gael, we are told that Irish Water remains and water charges are merely suspended, completely contrary to the Fianna Fáil manifesto," he said.
Keeping an eye on developments on behalf of the Bilderberg Group and other global financial interests will be Fine Gael's outgoing Defence Minister Simon Coveney, who attended the secret organization's 2014 meeting in Copenhagen.
@caulmick
Coveney and his #bilderberg buddies don't cave in that easily. Now is the time to follow through and reclaim the nation's assets

— Neil Cassidy (@Nc1908Neil) April 29, 2016