93K sign petition to fire Russian editor after his Nick Vujicic column causes outrage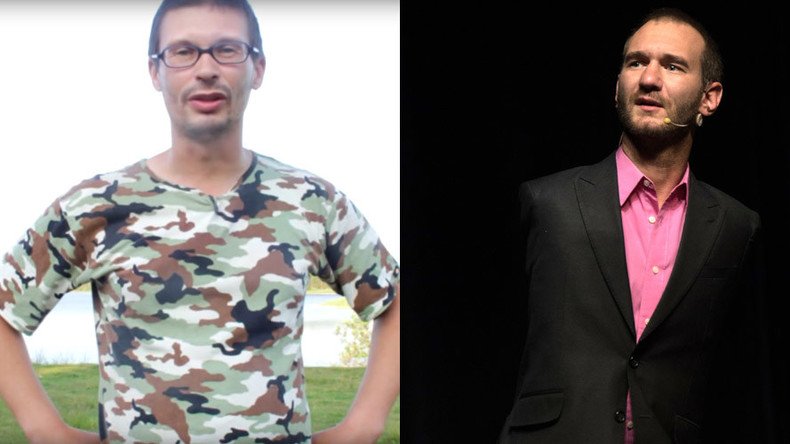 Thousands have signed an online petition calling for Russian KP Radio's chief-editor to resign since he wrote an article analyzing motivational speaker Nick Vujicic, in which he suggested that disabled people shouldn't have children and die straight away.
The backlash from the opinion piece was formidable. The media outlet was flooded by angry phone calls, while outraged social media users branded the views expressed in the article as "fascist" and launched the online campaign to have its writer sacked.
The petition is addressed to the CEO of Komsomolskaya Pravda, or KP media holding, and demands that Evgeniy Arsyukhin, the author of the controversial article, be fired. It also calls for the KP newspaper to issue an official apology.
"We believe the thoughts Arsyukhin expressed are an open call against the basic ideas of humanity. We demand his dismissal and an apology from the management of the KP," the petition reads.
The article in question was published on April 14 under the headline Nick Vujicic and Waiver of Evolution.
Using bold terms and phrases, Arsyukhin offered a retrospective on the treatment disabled people, describing how they were suppressed or even killed in the early days of civilization when physical power was a priority, before humanity made a U-turn that put talent and wisdom above physical beauty.
"Aversion to 'physical deformity,' to disease, to death itself is embedded in us by evolution and natural selection... Ancient people considered it a necessity to kill a handicapped person in infancy. Disabled specimen should not survive or breed. It's best if they died right away.
Yet, some three thousand years ago, a colossal overturn took place in the minds of men – they challenged natural selection, not wishing to live by its law.
[…] Jesus sealed this revolution. He put the poor above the successful once and for all. From now on, at least formally, sympathy for [the disabled] is an integral part of civilization. After him it's somehow 'ough' to say that you hate the disabled, the poor, and the mentally challenged."
The author then proceeds to talk about modern-day people, who he divides into two groups. The first speaks of motivation, inspiration, and the higher power of the human brain, praising mental strength as superior to physical.
"His [Nick Vujicic's] fans enthusiastically repeat banalities like 'he gave us self-confidence, if he was able to become successful, we can and we will as well!' But deep down, they all – or almost all – feel pity and even disgust for their idol... And there is nothing monstrous about it."
The second group, according to Arsyukhin, puts those who make fitness and vegetarianism their idols, saying that this group reminds him of the ancients, whose motto was "dog eat dog."
Arsyukhin then asks himself the question – Which road is civilization going to take? – confessing that, to him, both alternatives seem "poor."
Following the public outcry, the article was removed from KP's website and replaced with a sort of disclaimer stating that the news outlet respects the opinion of its readers, which was decidedly mixed, noting that while some "were interested in the reasoning of the author," "others felt offended," but on balance "the text has caused more negative feedback."
However, it then goes on to say that "it became clear to us that many of the opponents did not read the full text, limiting at best, at a few paragraphs."
In a radio-interview several days later, Arsyukhin pointed this out as well, saying that modern-day internet-oriented readers are used to reading only headlines and summaries, while his article was purposely written in a "more complicated way," without solid conclusions, and had to be read through to be fully understood.
He also apologized on air to anyone who had been offended by his ideas, saying he didn't understand what other apologies the activists behind the petition could demand.
"My friends, I did not mean to offend anyone. But if people are offended, I offer my sincere apologies.
Bottom-line, this debate… draws attention to the problems of the disabled, but also draws negative attention to them. Perhaps, I was wrong to start it, at least in this form... but it turned out like that thanks to the people with no brain that repost only the first paragraph, and do not read any further.
So I apologize once and for all."
Arsyukhin's article was published ahead of Nick Vujicic's visit to Moscow. The motivational speaker, who is the author of the popular books Unstoppable and Life Without Limits: Inspiration for a Ridiculously Good Life, is greatly admired around the world for succeeding in both his career and personal life despite being born with Phocomelia, a rare condition that deprived him of having both arms or legs.
Vujicic is in Sochi at the moment and is expected in Moscow to deliver speeches and hold meetings for those in Russia who could be helped by his example.
You can share this story on social media: