Iran shows off Russian S-300 SAM missile at army parade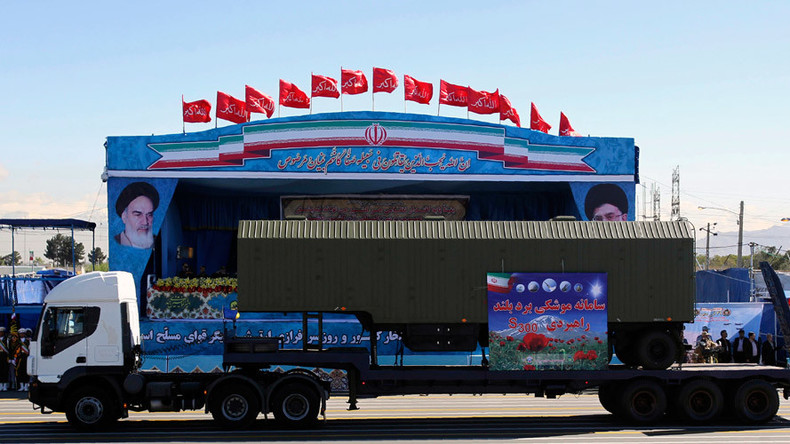 Iran has demonstrated freshly delivered elements of the Russia-supplied S-300 air defense system during their annual National Army Day parade.
Tehran reported receiving the first batch of the advanced S-300 surface-to-air missile system from Russia earlier this week, and used the parade dedicated to the Iranian military on Sunday to demonstrate its acquisitions.
According to photos published by the Iranian media, trucks carried several elements of the complex, including a command post, a truck for towed long-range target acquisition radar, a short-range radar station and a mobile radio antenna used to extend communications range for other elements of the system. No actual missiles or missile launchers were demonstrated.
The Iranians demonstrated other advanced Russian military hardware, particularly two elements of the Avtobaza M electronic warfare complex. The system supplied to the Islamic Republic several years ago is believed to be responsible for the embarrassing hijacking of the US RQ-170 spy drone.
The weapons were paraded in Tehran in front of President Hassan Rouhani and military commanders, along with Iran's domestically-made advanced weapons, including Ghader, Nasr and Fakour missiles, Kasta surveillance radar, Hag and Rapier missile defense systems, and Iran's counterpart to the S-300, the Talaash-3 long-range missile defense system, the Mehr news agency reported.
"The power of our armed forces is not aimed at any of our neighbors ... Its purpose is to defend Islamic Iran and act as an active deterrent," Rouhani was quoted as saying during a speech at the ceremony.
He added: "The Iranian Army is the Islamic Army that protects Muslim countries from terrorism and Zionism."
Russia first signed a deal with Iran to supply the S-300 in 2007, but the deal was blocked in 2010 due to Western pressure.
Iran at the time was subject to international criticism over allegations that it was trying to secretly produce a nuclear weapon.
Business was revived in April last year after a preliminary agreement on a nuclear deal between Iran and six leading world powers was reached, which restrained Iran from producing a nuclear arsenal.