Spot the jihadi: Government prepares protocol for teachers in Catalonia to detect radicalization
Published time: 29 Mar, 2016 19:47
Edited time: 29 Mar, 2016 20:16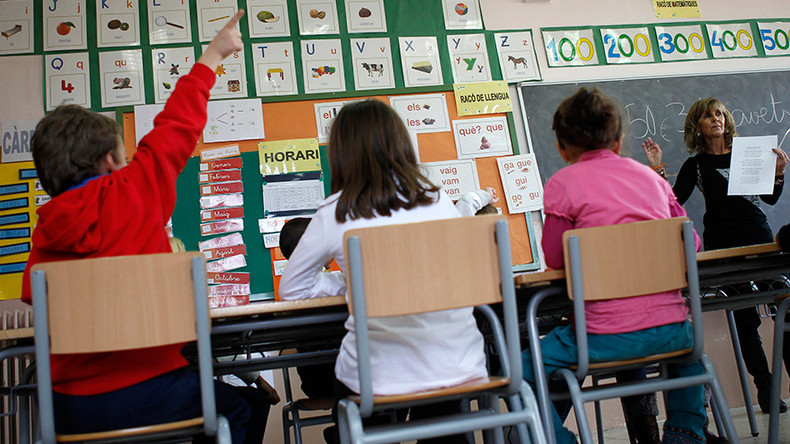 Catalonia's regional government is finalizing controversial plans to introduce an Islamic extremism detection program in schools, in spite of disapproval from teachers and unions who were not consulted on the matter.
The guidelines were developed by a specialist anti-terrorist unit of the Catalan Police, the Mossos d'Esquadra squad, to train teachers to watch out for possible extremist behavior.
Extremism prevention in schools falls under Spain's Special Operational Anti-terrorist Plan, introduced after the Charlie Hebdo terrorist attacks in Paris in January 2015.
The plan aims to prevent any threat from potential homegrown jihadis in the wake of the recent Brussels and Paris terror attacks.
Catalonia has the highest concentration of Muslim immigrants within Spain and an estimated 75,000 Muslim students attend state-schools in the region.
READ MORE:Minority report: FBI asks high schoolers, teachers to watch for signs of student terrorism
Teachers will be asked to report changes in behavior among students such as becoming shy and introverted, adopting traditional styles of Islamic dress or refusing to join in sports or cultural activities for "religious reasons", according to El Mundo.
They will also be advised on how to monitor students if they are accessing jihadist propaganda on school computers, and to raise the alarm if students talk about leaving school to travel abroad.
Teachers and unions however have objected to the lack of consultation on the proposed measures, and the Independent Trade Union of Civil Servants (CSIF) is calling for a meeting with the government to discuss the preventive protocol.
The CSIF say it is regrettable that this information has come through the media without a direction conversation between authorities and the educational community.
"We must take into account the complexity and implications of this decision in such areas as religious freedom, freedom of expression or the very phenomenon of jihadism and the difficulties of their own bodies and security forces to combat it," they added in a statement.
Manel Pulido, Secretary of Education of CCOO in Catalonia told El Mundo "this may be an overreach of our functions," while Nicolas Fernandez Guisado, president of ANPE said, "we do not want a police school or to have a witch hunt."
"In cases of crimes or alleged crimes or if the rules are violated, naturally the educational community can act, but exercise police activities from within the classroom it is not only dangerous but inconvenient because students can leave school if they see it does not fulfill its inclusive role," he warned.
The protocol is believed to be similar to that already used in Spain to combat youth gangs where teachers must observe suspicious behavior in students.