Zika virus may have entered Brazil from French Polynesia during 2013 football tournament – study
Published time: 25 Mar, 2016 16:13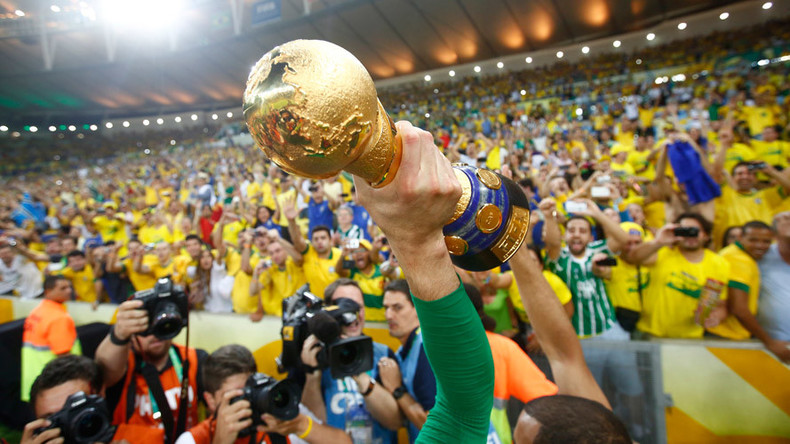 Zika virus has affected at least 30,000 people since its outbreak in Brazil last year, but how it arrived in the nation has remained a mystery – until now. A study suggests that supporters of French Polynesia's national football team brought it in 2013.
A genetic analysis of the virus from different parts of the world has pointed to a single introduction to Brazil between May and December 2013 from French Polynesia, which first suffered an outbreak of the virus in 2013 and 2014.
Researchers from the University of Oxford and the Evandro Chagas Institute in Brazil studied samples of Zika virus from genomes connected to the Brazil epidemic. The samples included one from a blood donor, one from an adult with a fatal case of the virus, and one from a newborn infant with microcephaly and other congenital conditions.
The team used an advanced genetic sequencing technique to map out the gene codes of the samples. They found later that the specimens had very subtle differences among them.
"This is the first study into the Zika outbreak in Brazil using genomic data, and it gives us a good baseline for future research," Dr. Nuno Faria of the University of Oxford and the Evandro Chagas Institute said.
Following the analysis, the scientists determined that supporters of French Polynesia's national football team could have been the culprits behind the Brazil outbreak, when they traveled there in June 2013 for the Confederations Cup tournament.
"We looked at broad-scale patterns of human movement and focused on air passengers who traveled to Brazil from countries that reported Zika since 2012. From late 2012 onwards, there was a 50 percent rise in the number of passengers traveling to Brazil from countries with Zika," said Professor Oliver Pybus of Oxford University.
During the tournament, the French Polynesian team of Tahiti played a match against Uruguay at a stadium in Recife, in the northeastern region of Brazil – near the center of the outbreak.
However, Pybus noted that "although the American outbreak virus is most closely related to a strain from French Polynesia, it's also possible that Zika was introduced separately to the Americans and French Polynesia from South-East Asia."
The first known Zika virus outbreak was in East Africa in 1947. From there, it spread across Africa to Asia.
"To better understand Zika transmission history, we need more information about the epidemiology and genetic diversity of Zika viruses in South East Asia," Pybus said. The study was published in the journal Science on Thursday.
Zika virus is believed to be linked to microcephaly, a condition associated with an abnormal smallness of the head and incomplete brain development in babies.
The World Health Organization (WHO), which declared Zika an international health emergency last month, has estimated that Brazil will have more than 2,500 babies born with microcephaly if current trends continue in the South American country, where major city Rio de Janeiro is scheduled to host the Summer Olympics later this year.